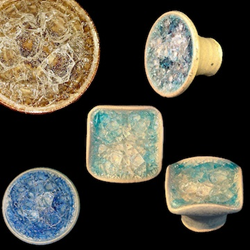 The recycled glass knobs really add a lot of character to a simple white cabinet in my bathroom. It looks great!
Ferndale, WA (PRWEB) March 26, 2014
Kitchen and bath remodels are the most popular remodeled rooms in the home, and Paloma Pottery has the perfect touch. Handmade, recycled glass tiles & cabinet pulls bring a surprising amount of style and class at a reasonable rate. These jeweled-faced gems come in round or square shapes and in the full range of Paloma's Earth, Ocean & Blanco color series. Deep, crystal amethyst blues, blazing sunset orange and reds, emerald forest greens - all home decor themes will find their ideal complement. A sturdy clay base offers an earthy touch while the glass surface shines with color and light. Shoppers who place a bulk Handmade Pulls purchase by April 31, 2014 will now receive a 10% discount on their order.
One customer says, "The recycled glass knobs really add a lot of character to a simple white cabinet in my bathroom. It looks great!" Especially when it comes to an item homeowners touch nearly every day, customers find this investment more than worthwhile. To redeem this special offer, simply use coupon code SpringGreen14 at checkout. Fortunately for online shoppers, this deal is coming just in time for spring contractor deadlines.
This "aging in place" trend, along with the popularity of DIY remodel TV shows, has spurred a renewed interest in the handmade home decor market. The remodel season is upon us, and with a recent surge in economic confidence, home remodels are on the rise nationwide. "With that confidence, people are more willing to invest in their home because that is where they want to stay," says DyLon McClary of Rose Construction in Bellingham, Washington. "Boomers are now getting into their 60's and 70's and they don't want to move, so they make modifications," he continues.
Paloma Pottery has been online for over 14 years now, and the mark of their endurance shines through. Maintaining a high standard for sustainable business practices and responding to current trends has been part of their formula for long-term success. Founder Nicole Whitney was first given the inspiration for Tiles & Pulls while selling at a farmer's market in the company's early days. "A customer picked up a wine bottle stopper and said, 'Door Pulls! These would make incredible pulls,' and the line was born," she says.
Custom work is Paloma Pottery's specialty. "Working with customers in home remodel situations has been especially rewarding," Whitney notes. "Having been there myself many times, I can appreciate the importance and care of every decision. I love knowing I can understand someone's vision and then offer the right accent for their project." Paloma's legendary customer service has brought customers back again and again. A home remodels is the perfect opportunity to find this reassurance and attentiveness along the way.
"Working in the real estate business on the side, I have an intimate understanding of how important it is to feel good about your home. Offering handmade products for remodeling is just another way I can support that," Whitney says. Now, customers can buy from an ethical, innovative and socially responsible business while reveling in colorful delights for the home. The team at Paloma Pottery is here to help.
About Paloma Pottery:
Paloma Pottery has been online for 14 years now, and the mark of endurance shines through its work. Continually improving and expanding her line, Founder Nicole Whitney has grown Paloma Pottery into a thriving artisan presence. For those who are seeking exceptional quality gifts with a unique, eco-friendly design as well as solid business ethics, PalomaPottery.com is the place. For more information, please visit http://www.palomapottery.com or call 877-669-0783.