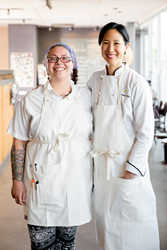 New York, NY (PRWEB) August 06, 2015
The first chef in the series of collaborations is Boston's Joanne Chang of Flour Bakery and Myers + Chang.
The process
Upon consultation with Joanne Chang, Alex McCrery and the Tilit Chef Goods team put together three apron sample styles. The chefs at Flour Bakery put them to the test and made notes on improvements and adjustments to the design. After another round of testing, Tilit then created the final aprons in two sizes at the Flour team's request.
The aprons
Joanne and the Flour team were looking for a durable, comfortable, functional and well fitting white apron. Tilit sourced a US milled 100% cotton white duck canvas for the apron. The adjustable neck and waist straps are a US milled 100% natural cotton. Pockets include a deep hip pocket with an additional slotted pen/tool pocket. There are two sizes in order to fit different heights without requiring the annoying act of folding over "too long" aprons at the waist. They'll be offered in standard and petite. The aprons are made by Tilit in NYC.
Release and Pricing
The Limited Edition Joanne Chang x Tilit "Flour" Aprons will be released for sale Tuesday August 11th online at http://www.tilitchefgoods.com. They will retail at $75. Members of the team at Flour bakery will be donning the aprons as well.
Joanne Chang
An honors graduate of Harvard College with a degree in Applied Mathematics and Economics, Joanne left a career as a management consultant to enter the world of professional cooking. She is the chef and co-owner of Flour Bakery + Café, with four locations in the Boston area, and Myers + Chang as well as the author of Flour, Spectacular Recipes from Boston's Flour Bakery+Cafe, Flour, too: Indispensable Recipes for the Café's Most Loved Sweets & Savories, and Baking with Less Sugar.
Up & Coming
Tilit Chef Goods also has plans in progress to collaborate with Chef Steven Satterfield of Atlanta's Miller Union and Chef Michelle Bernstein of Miami's Cena.
All photos by Kristin Teig, http://www.kristinteig.com