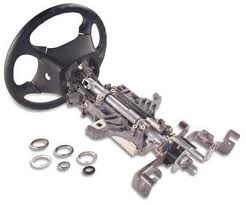 Locating a column assembly does take some work to ensure the correct shaft is ordered
Philadelphia, Pennsylvania (PRWEB) August 08, 2013
Steering columns can and do fail on perfectly normal automobiles. Consumers who are hoping to avoid the rising costs of auto mechanic installations can benefit from the tilt steering wheel column assemblies that are offered through the SteeringColumnsforSale.com company at http://www.steeringcolumnsforsale.com/steering-wheel-column.
The in-stock units are specially designed to fit inside vehicles using the tilt column in manual and electronic configurations. Vintage vehicles using the universal editions may not be compatible with the tilt versions that have been used since the late 1970s.
"Locating a column assembly does take some work to ensure the correct shaft is ordered," said a salesman for the Steering Columns for Sale company.
Companies able to provide replacement components do not always include genuine parts that are often preferred by vintage or newer vehicle owners.
The tilt column assemblies for cars, trucks and SUVs now posted inside the company inventory are genuine units that are secured through trusted resources. Ford Motor Company, General Motors, Chrysler, Jeep and other company brands are included for review and sale online. A new inventory system is used to catalog all company inventory.
This online database relies upon accurate inventory numbers that are updated in real time by company specialists. The traditional methods for receiving offline price quotations by telephone have been erased by the online methods that are currently developed by the SteeringColumnsforSale.com company.
Consumers who do not currently use the toll-free number at 1-866-469-1209 to place orders or ask questions can find much of the same information using the tools posted online. These virtual methods of price discovery and distribution were launched during the website redesign this year. All universal, racing, tilt and chrome steering column assemblies can be priced using these tools.
About SteeringColumnsforSale.com
The SteeringColumnsforSale.com company locates and acquires replacement assemblies for cars, pickup trucks and sport utility vehicles. This company has constructed one of the most resourceful databases in the secondary market industry to find steering wheel column assemblies and related parts for immediate shipment. The SteeringColumnsforSale.com company offers access to its toll-free telephone number for immediate lookup of inventory or answers to questions that currently provided on the company website. Low pricing is achieved through efforts that include cash discounts, wholesale supply and other methods to help company customers.