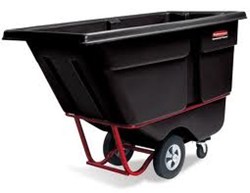 Rubbermaid Tilt Truck…. Do I need to say more than Rubbermaid makes it? All Rubbermaid products are great. Customers will not be disappointed with this item
Dover,Delaware (PRWEB) August 04, 2013
A Plus Warehouse announces Rubbermaid Tilt Truck as today's product of the day. Product of the day is a fairly new concept. Having a product of the day allows customers to experience a wide variety of A Plus Warehouse's products. With so many products available, a customer can easily miss a product. Product of the day showcases A Plus Warehouse's best products. As mentioned earlier, today's product of the day is the Rubbermaid Tilt Truck. According to Ed Stairman, president of A Plus Warehouse, "Rubbermaid Tilt Truck…. Do I need to say more than Rubbermaid makes it? All Rubbermaid products are great. Customers will not be disappointed with this item." As Ed stresses, Rubbermaid is a great manufacturer that makes this product.
Rubbermaid is an extremely well-known brand. In fact, Rubbermaid is so popular that it is known as "Brand of the Century." The company is also one of only 100 other companies named as having an impact on the American way of life. For customers that have never heard of Rubbermaid, this article is going to give some basic information about this company. The company has been around for nearly 80 years. Any company that has been around that long must be doing something right. Rubbermaid specializes in making organizational products that simplify the life of their customers. Rubbermaid products can be found almost anywhere. Common places to see their products include supermarkets, drug stores, warehouse clubs, hardware stores, and various others.
The Rubbermaid Tilt Truck may be the product of the day, but customers should check out A Plus Warehouses other tilt trucks as well. Tilt trucks are rather easy to order. The product is also extremely simple to use. There are times when a simple garbage barrel just will not do the job. For example, if a garbage barrel has 80 pounds of waste in it, it is awkward to either lift or try to angle the barrel in hopes that the dolly doesn't get away. This is a very hard and frustrating job. A tilt truck does the angling for customers. A Plus Warehouse also strongly suggests lids when ordering this product. A Plus Warehouse hopes this article has encouraged customers to look into Rubbermaid Tilt Trucks.
A Plus Warehouse is the operator of http://www.apluswhs.com and distributes materials handling and storage equipment nationwide and throughout Canada. The sales staff at A Plus Warehouse is available at 800-209-8798. A Plus Warehouse has been in constant operation since 1996.