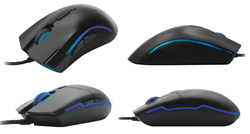 ONTARIO, Canada (PRWEB) January 23, 2019
Tilted Nation, the gaming division of Mace Group, Inc., announced two new gaming mice designed for casual gamers and MOBA players. This new line of Tilted Nation gaming accessories focuses on suiting gamers needs with quality software, omron click durability & precise speed.
TNDEADSHOT

Free Software to Setup Unlimited Profiles for Quick & Easy Shortcuts
Simple Solutions to Program all 7 Buttons, DPI (4k Max), Scanning Speeds etc.
Enhanced Durability and Click Life Due to Omron Micro Switches
Bigger Ergo Shape to Play Comfortably for Hours (Supporting Palm, Fingertip & Claw)
Confidence Booster: Savage RGB Breathing Effects & 16.8 Million Colors
MSRP: $39.99
Entry level gamers do not need 20,000 DPI, complex functionality, and most of all, a price tag that shatters the fun. They need tools to help them grow:
FIND IT @ https://tiltednation.com/products/fps-gaming-mouse-tndeadshot
TNROGUE
MSRP: $39.99
Tilt your opponent with superior-peripheral weaponry that is engineered, specifically, for fast juking actions and repetitive clicking in MOBA:
FIND IT @ https://tiltednation.com/products/moba-gaming-mouse-tnrogue

Click Durability: Omron Micro Switches Provide Up To A 10 Million Click Life
The Perfect Speed: Adjust DPI From 200 To 10,000 For Increased Performance
Less Fatigue: Due To The Ultra Lightweight Design Weighs Only 88g
Faster Clicks Per Minute: Claw Grip Shape, Naturally Encourages Faster Clicking
Custom Software: Program RGB Effects & Colors, Hotkeys / Macros, Speed etc.
Tilted Nation is an elite gaming peripheral company recently developed by Mace Group, Inc., which is a 25-year manufacturer of computer input devices & electronic accessories. Our mission is to build a nation of united gamers that thrive off of positive support, fun and enjoyable interaction across the globe.
ABOUT TILTED NATION
All offers subject to change without notice or obligation and may not be available through all retail partners. Prices listed are manufacturer's suggested retail prices and may vary by retail location. Applicable taxes extra. Trademarks used herein are trademarks or registered trademarks of Tilted Nation / Mace Group, Inc. Other product or service names mentioned herein are the trademarks of their respective owners.
PRESS CONTACT:
Cindy Araujo cindya@macally.com
4601 E. Airport Drive, Ontario, CA 91761 USA
909-230-6888 x 102