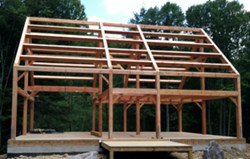 Working with Ron and Eric was a pure joy. These guys love what they do and they stand by the quality of their work. - Daren
Mercer, PA (PRWEB) August 30, 2013
Atlantic Timberframes traveled into the wilderness on this project. The first words from the truck driver when reaching the home site with a load timber was, "Wow, that was one a crazy driveway." The driveway is over a mile long with nearly a 25 percent slope in some locations. Throw in some giant overhanging rocks and steep drop-offs, and the word 'crazy' is not too far from the truth. These conditions would have deterred many, but they didn't stop Atlantic Timberframes. Ron & Eric Gabany, the owners of Atlantic Timberframes, did whatever it took to deliver the Susquehanna timber frame home and created another happy customer in the process.
Daren, the happy customer, began looking for a timber frame home builder in the fall of 2012 and while searching many company websites, he found Atlantic Timberframes. When asked what led him to choose Atlantic Timberframes, he said it boiled down to three things:
1. The ability of Atlantic Timberframes to not only design and deliver the timber frame structure, but to also help in securing the structural insulated panels (SIPs).
2. The inclusion of 3D digital sketches in Atlantic Timberframes process to help visualize the end product.
3. The fact Atlantic Timberframes is a family owned business and those with the experience, Ron and Eric Gabany, are the guys doing the work.
Atlantic Timberframes began working with Daren in preparing the timber frame home plans in the early spring of 2013 and mid-August was chosen as the target date to raise the timber frame home. The process started with many detailed discussions of the timber frame home and what was needed. Ron prepared 3D sketches of various layouts to enable the visualization of the completed home.
Once the design was complete, Atlantic Timberframes assisted Daren in securing pricing for structural insulated panels, or what is often referred to as SIPs. Atlantic Timberframes worked closely with one of the leading SIP suppliers and was able to help ensure the design and final layout of the timber frame matched the panels being provided.
When the timber frame home was ready to be delivered and assembled at the project site, Ron, Eric and their team traveled to central Pennsylvania to do the job themselves. Having one company responsible for creating and assembling the timber frame ensured accountability from beginning to end.
Atlantic Timberframes is pleased to provide home owners and builders with multiple ways of incorporating the handcrafted quality of a timber frame into their homes. If you have questions on timber frame kits or hybrid timber frame homes, please contact Atlantic Timberframes using the contact information below or visit their website.
About:
Atlantic Timberframes, Inc.
Atlantic Timberframes is a family business made in America. They have been building unforgettable timber frame homes for over 20 years. The company's mission is to build the best timber frame homes possible for their customers, who they come to know and like during the design and build process.
Web: http://www.Timberframes.com
Contact: info(at)timberframes(dot)com