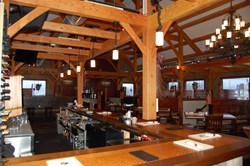 We welcomed the opportunity to work with the owners of Timber Creek in helping them realize the vision of their new restaurant. - Ron Gabany, Owner
Mercer, PA (PRWEB) September 30, 2013
Atlantic Timberframes, Inc. was selected to build the new location for Timber Creek Tap & Table ("Timber Creek"). Timber Creek's focus on quality & experience lead them to select Atlantic Timberframes to create their new timber frame home for their restaurant.
Timber Creek wanted to build and create an atmosphere where customers would enjoy spending their time. A key ingredient of the atmosphere was the actual timber frame structure. Combining old world craftsmanship with a sincere belief that their customers deserve the highest quality products available, there was one clear choice for the company that was to build their timber frame restaurant -- Atlantic Timberframes, Inc.
Atlantic Timberframes and Timber Creek have a lot in common when it comes to what drives them. Both companies share a passion for what they do. For Timber Creek it is a passion for their hand-crafted beer, brewed to tantalize their customer's tastebuds and exceed their expectations. For Atlantic Timberframes, it is their passion for wood working and the craft and tradition of timber framing. Every timber frame home, cabin and structure is built with one primary goal -- fulfill the dreams of their client.
Another common driver and element of success for both companies is the combination of skills, tradition, creativity and knowledge that make them great at their crafts. Both companies go above and beyond to ensure that their clients and customers have an experience that they want to tell others about. For Atlantic Timberframes, they understand that their clients want hand-crafted timbers and the tight fit that results from that craftsmanship.
Atlantic Timberframes build timber frame homes and timber frame home kits to meet the specific needs of their clients. Both require a dedication and passion for timber framing. The key difference is that a local builder would erect the timber frame home kit, whereas, Atlantic Timberframes erect all other structures. Atlantic Timberframes will help guide a client as to which approach may be best for a given project.
Atlantic Timberframes is pleased to provide home owners and builders with multiple ways of incorporating the handcrafted quality of a timber frame into their homes. If you have questions on timber frame kits or hybrid timber frame homes, please contact Atlantic Timberframes using the contact information below or visit their website.
About:
Atlantic Timberframes, Inc.
Atlantic Timberframes is a family business made in America. They have been building unforgettable timber frame homes for over 20 years. The company's mission is to build the best timber frame homes possible for their customers, who they come to know and like during the design and build process.
web: http://www.Timberframes.com
Contact: info(at)timberframes(dot)com
Timber Creek Tap & Table
Timber Creek was established in August 2011 when we began construction on our new Meadville location. Many months of hard work and patience brought us to our Grand Opening in May 2012. We sincerely believe that our customers deserve the freshest and best products available. So it only makes sense that we handcraft them with highest level skill, knowledge, and passion possible.