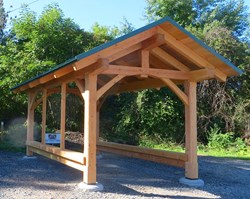 I have already had many comments on the superior craftsmanship of our timber frame.
Farmington, New York (PRWEB) September 30, 2013
In partnership with Jan Wright, New Energy Works Timberframers built the Dr. John Wright Memorial Pavilion on Ontario Pathways in Phelps, NY. Dr. John Wright began Phelps Veterinary Hospital in 1976, continuing the practice until his passing in 2009. The pavilion marks a trailhead of the pathway, directly across from the animal hospital.
"The team at New Energy Works (NEW) took on our project with enthusiasm and genuine interest. Although it was probably a small project to NEW, we felt their continued support from start to finish," explained Jan Wright. "In the early stages David Gruschow spent extra time attending Ontario Pathway committee meetings and going on-site to answer our questions. With his guidance we were able to arrive at a design that met our needs."
New Energy Works crafted the pavilion with Douglas fir timbers and topped the frame with Douglas fir tongue and groove, followed by metal roofing from EB Martin. Standing 9 feet wide and 16 feet long the pavilion will offer patrons shelter as well as a place to rest. A display case will provide information for visitors about the pathways and Dr. Wright. Above the display case a custom hand carved message in the top beam reads: "In Dedication to John Wright DVM." Wright commented that, "Doug Daniels, the Ontario Pathways head of the project, had excellent interactions with Tim Arnold of NEW, as well as the on-site raising that was headed by timber framer Marc Schaertl."
"We're grateful to have been part of this project. The pavilion will honor Dr. Wright's legacy for generations," said Brian Mosch, General Manager of New Energy Works.
"We are very pleased to have our pavilion completed on time for a mid-September raising and a dedication in early October. I have already had many comments on the superior craftsmanship of our timber frame," continued Wright. The pavilion will be dedicated on Sunday, October 6 at 4pm on Ontario Pathways, Route 96 Trail, Phelps New York. All are welcome to attend.
New Energy Works Timberframers have been designing and building environmentally responsible timber frames across the USA for nearly 30 years from their facilities in New York and Oregon. Offerings include: Timber Framing (design, engineering, manufacturing, installation), Enclosure Systems, Fine Woodworking, Recycled and Sustainable wood products. New Energy Works has LEED AP staff members, is a member of the US Green Building Council, and is FSC Certified.