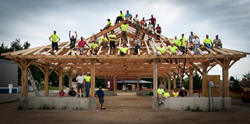 To be relevant, timber framers must stay on top of the built environment. To be happy, we need a good party. The conference will offer both.
Bellingham, WA (PRWEB) August 18, 2016
Professionals and enthusiasts of the timber framing craft are encouraged to join the 31st Annual Timber Framers Guild Conference (TFG) to be held September 16-18, 2016, at the Gideon Putnam Hotel in Saratoga Springs (NY). The international conference offers educational seminars covering the full breadth of this industry.
Learning opportunities include seminars on everything from historic and cultural timber framing building and preservation to modern design and engineering. Day-long pre-conference seminars offer further development and learning. A trade show, happy hour events, benefit auction, and axe throwing trials give conference-goers the opportunity to re-connect and network in an informal setting.
"To be relevant, timber framers must stay on top of the built environment. To be happy, we need a good party. The conference will offer both," stated Jonathan Orpin, TFG board member.
Seminars will cover high-performance, energy-efficient home design and construction as well as dive into historic building traditions of New York's Hudson-Hoosic Region. An additional pre-conference activity that will appeal to history buffs is a tour of historic sites in the area around Saratoga Springs. Featured conference speakers will include Rudy Christian, who led a project conserving the timber temples in Mandalay; William Logan, the founder of Urban Arborists and recipient of the New York State Arborists' Senior Scholar Award; and Kevin Ireton, author and former editor-in-chief of Fine Homebuilding, who will discuss ethical craftsmanship in the age of climate change.
A trade show catering to timber framing professionals will be on-site throughout the conference, and will be open to the public on Saturday, September 17th, from 8am to 4pm. Members of the public may also be treated to axe-throwing trials if they visit on Saturday between 10 and 10:30am or between 2:30 and 3pm.
Four day-long pre-conference seminars will center around skills and professional development. The pre-conference seminars include:

Designing and Building "net-zero-ready" homes by Andy Shapiro, President of Energy Balance, Inc, and Director of Science and Engineering Education for the Vermont Energy Education Program.
Safe Rigging Practices sponsored by the TFG's Apprentice Training Program and The Crosby Group, the world's leading manufacturer of rigging equipment;
Wood Identification Workshop by the Timber Frame Engineering Council
Charting a Course for Great Future Performance: Revealing the Secrets of Successful Strategic Planning by Dr. Duke Kuehn
The conference follows a 10-day Community Building Project to construct the new Champlain Canal Region Gateway Visitors Center in Schuylerville, NY. For more information on this community project, visit the website.
For more information, or to attend part or all of the conference, please contact the Timber Framers Guild at 360.746.6571 or email info(at)tfguild(dot)org.