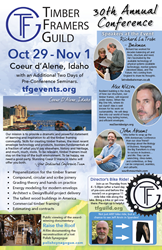 The conference will mark 30 years of heritage, history, and shared learning experiences from the best the industry has to offer.
Coeur d'Alena, Idaho (PRWEB) September 24, 2015
Timber framers, engineers, designers, and homeowners will congregate in Coeur d'Alene, Idaho for the Timber Framers Guild 30th Anniversary Conference next month. The conference will be from October 29 – November 1 with an additional two days of pre-conference seminars.
For thirty years, Timber Framers Guild conferences have been bringing together the timber framing community from across North America and as far away as Australia, Denmark, England, France, Germany, and Japan. Each year, timber frame craftsmen, contractors, and suppliers come together to be energized, renewed, and to learn more about perfecting our craft and building better timber frames.
"The conference will mark thirty years of heritage, history, and shared learning experiences from the best the industry has to offer," said Jeff Arvin, Timber Framers Guild Executive Director.
The overall mission of the conference is to provide a dramatic and powerful statement of learning and inspiration to all the timber framing community. Attendees will have the opportunity to develop skills for creating timber frames and to learn about the most recent envelope technology, industry products, and business fundamentals.
Members of the planning committee are bringing back a few conference favorites to Idaho, including many dynamic speakers and presentations, the Trade Fair, and joint busting and shear testing. Topics will include commercial timber framing, the tallest wood buildings in America, energy modeling for modern envelops, grading theory, prepanelization, and advanced joinery.
New this year at the conference are the Timber Frame Design Awards exhibiting design excellence in the timber frame building industry. The awards spotlight the most creative and innovative timber frame designers, builders, craftspersons, remodelers, architects, developers, engineers, and interior designers on the continent. Residential and commercial projects – fully completed, in the works, or still on the boards – will have the chance to be recognized for their craftsmanship and innovation.
"To be relevant, timber framers must stay on top of the built environment. To be happy, we need a good party. Stunning Coeur D'Alene in Idaho will offer you both," stated Jonathan Orpin, conference chair.
To join the conference, or if you have any additional questions about the Timber Framers Guild, please call 855-999-7998 or e-mail info(at)tfguild(dot)org.
The Timber Framers Guild is a nonprofit organized exclusively for educational purposes to provide training programs for timber framers, disseminate information about timber framing to the public, and serve as a general center of timber framing information for the professional and general public alike. Through the Guild's community projects, more than seventy-five heavy timber structures have been raised since 1985.