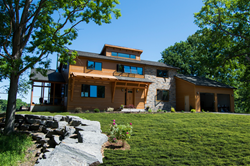 We've used our backgrounds in engineering and art to creatively collaborate with the teams of New Energy Works to build CreekSide Net-Zero – our dream home.
Pulaski, NY (PRWEB) July 08, 2016
On June 17, 2016 the Northeast Sustainable Energy Association (NESEA) held its first Pro Tour in Central New York featuring a Net-Zero home. The CreekSide Net Zero Home is hybrid construction which includes a custom timber frame designed and crafted by New Energy Works Timberframers. Net-zero means that a home produces as much energy as it consumes. The homeowners partnered with New Energy Works Timberframers to design a hybrid timber frame home that features natural lighting, on-site photovoltaic (PV) array, and several other elements to help reduce its carbon footprint.
"We've used our backgrounds in engineering and art to creatively collaborate with the teams of New Energy Works to build CreekSide Net-Zero – our dream home. The project exemplifies what can be achieved when great collaboration, ingenuity, building energy expertise, and creativity come together," explains Tom Lambert, homeowner and owner of CreekSide Energy Solutions.
NESEA Pro Tours are an opportunity for members to showcase the incredible work they are doing all over the Northeast. About 25 people attended the NESEA Pro Tour of CreekSide on June 17, 2016. Lambert, a graduate of the Zero Net Energy Homes course in the Building Energy Masters Series, answered questions throughout the tour, along with other project partners and experts. The homeowners both offered their perspectives on living in a house built to the stringent net zero standards. Tour attendees commented that it was "valuable to have the homeowners' perspectives, to hear from industry experts, as well as to have an opportunity to network with like-minded people".
Director of Program Development at NESEA, Miriam Aylward said, "This Pro Tour was our first event in Central New York, and it was inspiring to meet the members of the NESEA community in the region who are moving this important work forward. CreekSide's Net Zero home is beautiful and thoughtful in every detail, and was born out of his interaction with other NESEA members and programs, such as our conferences and online courses. It's an honor to have been part of the journey of such a fantastic project!"
The frame of the house utilizes Douglas Fir timbers, as well as Black Cherry and White Oak lumber harvested from the property for interior millwork. The millwork includes custom made cabinetry from NEWwoodworks, the fine woodworking division of New Energy Works, as well as reclaimed wood floors and from Pioneer Millworks. Overall the home marries finely tuned energy and enclosure solutions with an environment suited for creating artwork, woodworking and a generally relaxed retirement lifestyle.
Other Project Features:

2,853 sq.ft.
10,260 watt ground mount solar array consisting of 36 SW 285 mono panels with Enphase M250 micro inverters
Projected PV production of 12,702 kWh/yr
Air infiltration rate is .028ACH50 which is 53% lower than the Passive House Institute target
Inline fiberglass triple pane windows
Mitsubishi ducted air source heat pump
Pre-panelized 12-inch walls and 18-inch roof
Euroshield EuroLite Slate eco friendly rubber roofing
Insulation materials include dense pack cellulose, Roxul and Foamglas and minimal use of foam board
"Our goal was to build a net-zero energy house with a low carbon footprint that is also aesthetically pleasing. To us that means a house with soul, built in harmony and balance with the environment that will help nurture our creative spirits," explains homeowner, Ann Buchau. The homeowners will monitor, collect, and share data on the home's energy use over the next several years while enjoying the space with their family. "We were very excited to be a Pro Tour with the NESEA. We're looking forward to living in our dream home in a way that's healthy for us and the environment."
About:
New Energy Works Timberframers have been designing and building environmentally responsible timber frames across the USA for more than 30 years from their facilities in New York and Oregon. Offerings include: Timber Framing (design, engineering, manufacturing, and build), Enclosure Systems, Fine Woodworking, and Recycled and Sustainable wood products. New Energy Works has two LEED AP staff members, is a member of the US Green Building Council, and is FSC-certified.
NEWwoodworks has been the fine woodworking division of New Energy Works Timberframers for over 20 years. They specialize in custom crafting cabinetry, furniture, stairs, doors, and other custom woodworking that is unique to the individual and harmonious with the project design. The group is well known for their expertise in handcrafting elements for timber frame homes and constructing projects with reclaimed and extraordinary wood.
Pioneer Millworks is the leader in the reclaimed wood industry. To date, they've rescued more than 25 million board feet of old wood from rot and landfills, giving it new life as flooring, paneling, millwork, cabinetry, and more. All wood is manufactured in a way that's healthy for customers, employees, and the environment. Pioneer Millworks is FSC-certified and Green America approved. All of their products are LEED point eligible.