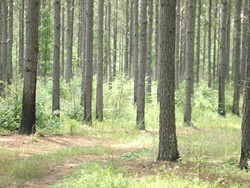 Investors still see timberland as a safe place to store money.
Birmingham, Alabama (PRWEB) September 01, 2017
An Alabama timberland owner has sold 13,747 acres of land to a Georgia timber investment company. The property is located in Cullman County, Alabama and five adjoining counties.
HDJ Land & Timber, Ltd. based in Cullman, Alabama is the seller and SPP Land, LLC based in Macon, Georgia is the purchaser.
Alabama-based Cyprus Partners is a land brokerage company who represented the seller in the transaction.
HDJ Land & Timber is a privately held company that began acquiring Alabama timberland in the 1920's and has managed the land for the benefit of three generations of family members.
SPP Land is a 33-year old timberland investment and management company that owns 150,000 acres in seven states.
Cyprus Partners represents buyers and sellers of rural farm land and timberland and the owners have been in professional practice since 1977. They have 10 licensed real estate agents in Georgia and Alabama. Most of their agents are also professionally licensed foresters, appraisers or wildlife biologist.
For more information contact Tom Brickman, 205-936-2160 or tbrick(at)CyprusPartners.com.