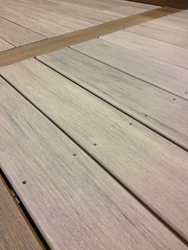 With looks that are authentic and unique, Ashwood resembles exotic, distressed hardwood, often seen used in high-end furniture.--Mike Gori, VP of Product Management
Wilmington, OH (PRWEB) October 28, 2014
TimberTech, a world leader in alternative decking and railing, follows up on the huge success of its Legacy Collection, introduced in early 2014, with a new, warm gray color called Ashwood. The subtle, earthy and aged look of Ashwood mimics the look of hand-hewn lumber with a richness that makes it nearly indistinguishable from tropical hardwoods.
With the addition of Ashwood, Earthwood Evolution's Legacy Collection now includes four options so you can build a deck with timeless style that will adapt to any decor - from rustic and relaxed to elegant and modern. New Ashwood joins the ageless options of Mocha, a deep, rich walnut color; Pecan, a warm reddish-brown color; and Tigerwood, a unique look that blends light and dark shades within the same board to emulate tropical hardwoods like ipe. The Legacy Collection is the only line of capped composite decking to offer a hand-scraped interior flooring look for outdoor living spaces.
"With looks that are authentic and unique, the Legacy Collection's Ashwood resembles exotic, distressed hardwood which is often seen used in high-end outdoor furniture," said Mike Gori, VP of Product Management, CPG Building Products. "This technology has taken capped composites to a game-changing new level using several colors in eye-catching, variegated patterns. We feel certain these are the most realistic capped composite decking colors on the market."
Like all members of the TimberTech Earthwood Evolutions decking line, Legacy Collection's Ashwood delivers strong aesthetics, along with scratch, stain and fade resistance and the high-performance product line is backed by a 25-year fade and stain warranty. The Legacy Collection, as with all TimberTech Earthwood Evolutions decking, features a protective polymer cap surrounding each board.
The new color, Ashwood, and the entire Legacy Collection are available in 12', 16' and 20' lengths, along with color-coordinated fascia and riser. The deck planks are available in a square shouldered profile, which can be installed using TimberTech's proprietary TOPLoc® fastening system of color-matched screws; or in a grooved profile, which can be installed using the CONCEALoc® hidden fastening system for a clean, beautiful fastener-free surface.
Learn more about the Legacy Collection's new color, Ashwood, at http://www.timbertech.com.
About TimberTech:
Part of CPG Building Products, TimberTech® is one of the world's leading brands of high-performance decking, railing, lighting and fastening solutions. With a passion for outdoor living and a global reputation for quality and innovation, TimberTech delivers a wide range of low-maintenance, wood-alternative products in an unmatched selection of colors and styles – all available through a network of more than 8,500 contractors and dealers worldwide. For more information, visit TimberTech.com, call 800-307-7708, or view product installation videos on the TimberTech YouTube channel. Stay up-to-date on TimberTech by following the company on Twitter (@timbertech_deck) or Facebook (/TimberTech).