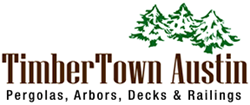 Austin, TX (PRWEB) June 30, 2014
TimberTown Austin, one of the largest suppliers of hardwood decking in Central Texas, is pleased to announce they are currently offering a limited-time only special on Ipe decking. During the 4th of July Ipe Blast Off Sale customers can save 15% or more on a variety of Ipe decking materials. The special includes:

8'-11' 5/4x6 Ipe decking
8'-11' 1x6 Ipe decking
Ipe is an attractive exotic hardwood that is known for its durability. The wood is also prized for its attractive grain and coloration, which varies from a rich mahogany to deep red-brown. Ipe is ideal for outdoor decking projects because it is highly insect resistant, decay resistant and weathers well. Its high density also gives Ipe an impressive hardness that minimizes scratching, denting and general wear and tear for decades.
The 4th of July Blast Off Sale puts this premium building material at a discount price that's far below the regular retail value. Homeowners and builders that purchase their materials during the sale stand to save hundreds of dollars on the total cost depending on the size of the project.
The sale coincides with the release of a new deck building tool on the TimberTown Austin website. DECKTOOLS Inspire allows users to design decks in 2D and then navigate them in a 3D view for a more realistic look at the final product. The design tool also includes features that give users the ability to place furniture, create outdoor kitchens, add plants and change the finish of the deck. This makes DECKTOOLS Inspire software useful even for those that already have a deck and are simply considering layout and design options as well as making additions to the existing structure. The user-friendly interface and beautiful, detailed renderings make it simple for DIY homeowners, contractors and architects to use the software.
To place an order during the exclusive sale, use the new DECKTOOLS Inspire 3D designing tool or to learn more about any of TimberTown Austin's other products, please visit: http://www.timbertownaustin.com
About TimberTown Austin
The experts behind TimberTown Austin have over 50 years of experience in supplying outdoor lumber for a wide variety of projects. Serving the Austin and the surrounding areas, TimberTown Austin has built a solid reputation as a reliable resource for softwood and hardwood lumber, composite decking, hardware deck accessories and more.