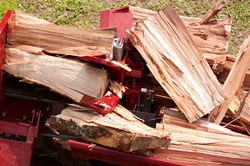 Rutland, VT (PRWEB) August 02, 2013
Timberwolf Manufacturing Corp., fabricator of high quality firewood processing equipment, has announced that they will be in attendance of The NY Woodsmen's Field Days in Boonville, NY and The Paul Bunyan Show in Cambridge, OH, two of the largest shows in the U.S. wood industry. Timberwolf Mfg. will be giving live demonstrations of a selection of firewood processors, firewood conveyors and log splitters at both shows.
The NY Woodsmen's Field Days (August 16-18), held at the Boonville Oneida County Fairgrounds in Boonville, NY, has become an international lumberjack competition since its inception in 1948.
Representatives will be stationed at the Timberwolf Manufacturing Corp. booth with a selection of equipment. Visit the event registration site for more info.
The Paul Bunyan Show (Oct. 4-6), held at the Guernsey County Fairgrounds in Cambridge, OH, is a showcase for current industry research, products, services billed as "The Original American Forestry Show". Visit the registration site for more info.
Timberwolf representatives will be located at the Brownwood Sales booth. Brownwood Sales is a Columbus, OH supplier of sawmill and woodlot equipment and valued Timberwolf dealer.
The full official 2013 Timberwolf Manufacturing show calendar can be viewed at http://www.timberwolfcorp.com/calendar.
Equipment exhibited from show to show may vary, so please call 800-340-4386 to check model information before the event.
About Timberwolf Manufacturing Corporation
Located in Rutland, Vermont, Timberwolf Manufacturing Corporation is a producer of high quality firewood processors, firewood conveyors and log splitters for consumer and professional use.
Since 1995, Timberwolf has been committed to providing superior wood processing equipment through a respected sales network. Their mission is to support and positively affect their customers, employees, sister companies, and greater community.
Visit timberwolfcorp.com to find out why Timberwolf is the Pro's Choice® in firewood processing equipment.