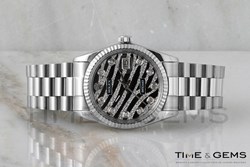 Los Angeles, California (PRWEB) November 19, 2013
Time and Gems' annual fall sale welcomes buyers to get their hands on some of the most popular Rolex watches ever made.
One of the many pre-owned Rolex watches for sale is the Ladies' Rolex Two-Tone Black Diamond Dial Beadset Bezel Datejust. Boasting 10 round cut diamonds around the dial and 50 diamonds on the outer rim of the dial, this Rolex watch is certainly one of a kind. With a custom yellow gold beadset bezel and scratch-resistant Sapphire conversion crystal, this particular watch is in excellent condition and stellar working order.
For over three decades, Time and Gems have been in the luxury timepiece industry. Eight years ago, the owners of the company took a leap of faith and decided to convert their booming brick and mortar business into an online one. The gamble paid off and now, Time and Gems is renown as one of the top online retailers of pre-used Rolex watches in the world.
Aside from the fact that Time and Gems has a wide variety of authentic pre-used Rolex watches for sale, the company is well known amongst online shoppers for several other important reasons.
1. Various Promotions & Sales
Time and Gems lives by the mantra that everyone should be able to afford the watch of their dreams. By hosting sporadic sales and wholesale promotional events, Time and Gems is in the business of giving shoppers the chance to own a pre-used Rolex watch. Shoppers are given the opportunity to choose from a wide variety of authentic watches and they do not have to spend an arm and a leg to do so.
2. Authenticity Certificate
Time and Gems is staunch in their belief that only genuine Rolex watches should come and go through their doors. To appease their customers, Time and Gems offers a thorough inspection and authentication process on every watch sold through them. This process is conducted by one of the company's in-house watch experts. Additionally, Time and Gems sends each Rolex watch to the Horological Appraisal Group to be appraised and authenticated. Buyers will receive proof of this through an authenticity certificate.
3. Special Bonuses
When it comes to Time and Gems, the shopping experience does not end with just a watch. Buyers who shop with the company can attest to the fact that there is more to it than just a pre-used Rolex watch. Every watch sold comes with a comprehensive 2-year warranty and no risk 3-day return and 10-day exchange policy. In addition to that, buyers are offered complimentary customer support from Time and Gems' expert jewelers seven days a week. Additionally, buyers are treated to low-cost maintenance services throughout the duration of the Rolex watch's lifespan. Because it is recommended that Rolex watches be serviced once every five years, being able to do so via Time and Gems will save the buyer plenty of time and money.
As mentioned, one of the top pre-used Rolex watches on sale is the Ladies' Rolex Two-Tone Black Diamond Dial Beadset Bezel Datejust (Item #552)
Price: $6,716
Sale Price: $5,716
This leaves the buyer a total savings of $1,000.
For a complete list of all the different watch brands up for grabs during the fall sale such as pre owned Rolex presidential, used Rolex submariner, contact Time and Gems at 1-888-658-5595 or head to their website.