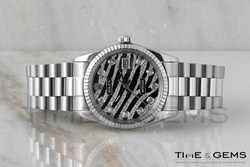 Los Angeles, California (PRWEB) August 10, 2013
Time and Gems is well known as being one of the most reliable online retailers from which to buy a pre-owned Rolex watch.
As one of the top players in their field, Time and Gems boasts one of the largest collections of Rolex watches available online. Along with their regular sales and wholesale events, Time and Gems is offering many buyers the chance to finally own a genuine Rolex watch.
With over 30 years of experience in offering luxury timepieces to their clients and over eight years of doing so online, Time and Gems is the retailer to head to if one is looking for an authentic pre-owned Rolex watch. Here are some of the top reasons why Time and Gems is doing so well amongst online shoppers.
1. The Customer Comes First
Nothing holds a business up better than a satisfied client. Having served thousands of satisfied customers, Time and Gems has been popularized not only through conventional means, but also through word of mouth. One of the reasons why clients keep recommending Time and Gems to their friends and family is because of the excellent customer service afforded to them. Unlike other online retailers who do not pay much attention to the shopping experience, Time and Gems takes pride in doing so. With on-call customer service representatives ready to serve their clients, all the buyer has to do is call a toll-free number and he or she will be connected to a Time and Gems representative. Be it getting advice on how to choose a Rolex watch for a loved one, to discussing the details of a watch's warranty, the expert representatives are always ready and willing to help.
2. Free Shipping
All watches sold through Time and Gems are offered free shipping to their new home. Whether the buyer resides locally or overseas, Time and Gems is more than happy to ship the watch to anywhere the buyer wishes for free. Aside from utilizing the very reliable services of UPS Priority Shipping, Time and Gems also ensures each timepiece is insured from start to end. This will ensure that should anything unfortunate occur during the journey, the client does not need to worry about footing the bill for any damage or loss sustained. Additionally as an added safety precaution, a valid form of government ID is required before the timepiece is handed over to the new owner.
3. Bank Wire Price
Although buyers are welcomes to pay via credit or debit card, they are encouraged to conduct a quick wire transfer when paying for the Rolex watch. This is because Time and Gems offers a 5% discount on all purchases paid through this manner. As each Rolex watch cost thousands of dollars, this method of payment gives buyers the chance to save quite a hefty sum when shopping with Time and Gems.
Buyers who are interested in shopping at Time and Gems should know that one of the watches currently on sale is the popular Ladies' Rolex Stainless Steel Black Roman Dial Beadset Bezel Oyster Band Datejust (Item #747).
Price: $4,445 Today Only: $4,000 (Bank Wire Price: $3,800) This leaves the buyer a total savings of $645.
For more information on why Time and Gems continues to be successful and is so popular amongst online shoppers, speak to one of the company's skilled customer representatives by calling 1-888-658-5595 or visiting http://www.timeandgems.com.