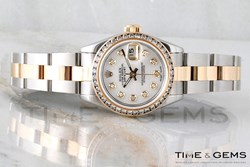 Los Angeles, CA (PRWEB) October 10, 2013
Time and Gems, one of the most popular luxury watch retailers on the web, offers the world's largest collection of luxury timepieces including authentic Rolex watches for men and women.
Online shoppers looking for a good bargain on authentic Rolex watches flock to Time and Gems not only because of the vast variety of watches afforded to them, but also because of the other perks that the company offers. For over three decades, Time and Gems have dominated the pre-used watch industry and their move to the online world eight years ago has given them the highly sought after international status of one of the top luxury watch retailers online.
Their strong presence in the industry has allowed them to amass a large network of over 250 contacts made up of authorized luxury timepiece resellers and wholesalers. This has enabled them to garner large quantities of pre-used Rolex watches at wholesale rates, giving them the chance to pass on the savings to their buyers through significantly reduced price tags on their Rolex watches. Aside from Time and Gems' large variety of pre-used Rolex watches at affordable rates, buyers popularize Time and Gems for the following reasons.
1. Excellent Customer Service
The professionals at Time and Gems understand that it is very important to keep their buyers happy. Shoppers at Time and Gems can attest to the fact that shopping through their website is simple and straight forward. Additionally, Time and Gems has non-commissioned expert jewelers on hand to help their clients make a decision on the right Rolex watch to take home. From garnering advice on how to choose the right Rolex watch to discussing the terms and conditions of the warranty, there is always someone readily available to help the customer. The company knows how hard it is to buy a luxury item online without seeing, feeling and trying on the item beforehand. Hence, they have enhanced the buyer's online shopping experience by providing ample pictures and information on the Rolex watches on sale.
2. Authentication Certificate
It is important to demand for an authentication certificate when one buys a luxury item online. Watches are no exception as with the deluge of counterfeit Rolex watches on the market, one cannot tell if it is an imitation piece until it is too late. However, buyers can rest assured that all watches sold though Time and Gems are authentic. All watches go through a stringent verification process conducted by Time and Gems' team of expert watchmakers. These watches are also verified by the Horological Appraisal Group, an independent organization that verifies and authenticates watches. The buyer will receive an authentication certificate from this organization, proving that the watch is genuine.
3. Bank Wire Price
Time and Gems is proud to say that they offer one of the lowest rates on Rolex watches in the industry. On top of that, the company is pleased to announce that should the buyer choose to pay via bank wire, the total bill will be reduced by 5% at checkout. This gives buyers the chance to save even more money on their pre-used Rolex watch on top of what they have already saved by shopping at Time and Gems.
One of the many pre-used watches on sale at Time and Gems is the Men's Rolex Two-Tone Blue Diamond Dial Fluted Bezel Jubilee Band Datejust (Item #103)
Price: $4,145
(Bank Wire Price : $3,730)
This leaves the buyer a total savings of $415 if they opt to pay via bank wire.
For more information on other Rolex watches on sale, contact Time and Gems through their website or call them at 1-888-658-5595.