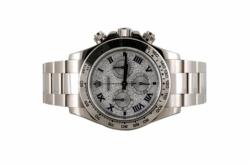 Los Angeles, California (PRWEB) July 09, 2013
Time and Gems has recently announced that they will be extending their annual 4th of July wholesale event to accommodate the high number of online shoppers seeking quality pre-owned Rolex watches.
The announcement came after Time and Gems (http://www.timeandgems.com) revealed that sales continued to rise well throughout the day and that online traffic to its website has yet to cease.
According to a representative of Time and Gems, "Time and Gems has decided to extend the wholesale event in fairness to all our valued clients, and as we still have ample stock of top Rolex watches from some of the most popular collections, we see no reason not to push through with the extension."
With the largest selection of pre-used men and ladies' Rolex watches on sale, online shoppers are spoilt for choice when it comes to choosing the perfect watch for themselves. Be it a Rolex watch from the Datejust collection or something from the highly sought after Submariner range, Time and Gems has it all when it comes to quality Rolex watches.
Aside from genuine pre-owned Rolex watches offered at discounted rates, Time and Gems warrants the success and hence, extension of its 4th of July wholesale event to several other factors.
1. Free Shipping
Clients enjoy shopping with Time and Gems because the company offers free insured shipping of its items using UPS Priority Shipping. Even international clients are offered the same perks as domestic ones. Buyers can also request Time and Gems to use the services of FedEx or USPS if they prefer. Additionally, if clients are willing to top up a small fee, Time and Gems will arrange for the package to be expressly delivered to ensure that it arrives at a certain time and date.
2. Top Warranty
Time and Gems has no qualms about offering their clients the best of the best. The same can be said about its post-purchase services. All Rolex watches that are sold through Time and Gems are guaranteed a comprehensive two-year warranty. This gives buyers peace of mind when buying a pre-owned luxury item. Should anything happen to it, there is always the option of a repair, return or exchange.
3. Customer Service
Another reason why clients enjoy shopping at Time and Gems is because of the excellent customer service provided. Before, during and after a purchase is made, Time and Gems' team of expert representatives are more than willing to help the buyer. From choosing the perfect Rolex watch, to walking the buyer through payment methods, to negotiating an exchange, the experts at Time and Gems are trained to make the customer happy no matter what.
4. Bank Wire Price
Time and Gems offers an additional perk to its clients. Should the buyer opt to forgo using their credit card to pay and choose to pay via bank wire or direct deposit, Time and Gems offers a 5% discount to the buyer at checkout. This scheme even applies to items on sale, encouraging many buyers to take advantage of the additional chance to save money on a pre-owned Rolex watch.
Buyers are encouraged to take advantage of the extended sale before it ends. One of the watches up for grabs is the Ladies' Rolex Stainless Steel Blue Diamond Dial Fluted Bezel Datejust 90s (Item # 10798)
Price: $6,145
Today Only: $5,500
(Bank Wire Price: $4,950)
This leaves the buyer a total saving of $1,195
For more information, contact Time and Gems at 1-888-658-5595 or head straight to their website at http://www.timeandgems.com.