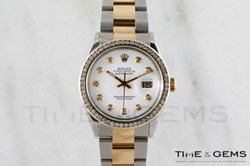 Los Angeles, California (PRWEB) August 11, 2013
Time and Gems, one of the largest and most popular online retailers on the web, is sharing with clients the secrets why they are able to offer Rolex watches at such consistently reasonable rates.
For over three decades, Time and Gems have been offering authentic luxury watches to their clients at very competitive rates. Although their focus has shifted to online retailing the past eight years, nothing in that aspect has changed. They still offer genuine Rolex watches at wholesale prices to their clients. Here are some of the reasons why Time and Gems is able to do so.
1. Pre-Used Rolex Watches
Time and Gems only sell pre-owned luxury watches and because of this, are able keep the cost per watch low. What many buyers do not realize is that brand new Rolex watches depreciate in value the moment it is sold. Hence, when compared to their brand new counterparts, the Rolex watches sold at Time and Gems are significantly cheaper simply because they have experienced the initial depreciation in value the first time they were sold. This does not mean that the value of the pre-used Rolex watch will continue to depreciate. On the contrary, Rolex watches are known to appreciate over time, simply because of its renown brand, quality and design.
2. Wide Network of Suppliers
Another reason why the professionals at Time and Gems are able to keep the price tags of their Rolex watches low is because of the extensive network of suppliers that they have. Made up of over 250 authorized resellers and wholesalers, Time and Gems' extensive network of suppliers offer the company bulk orders at significantly low rates, giving Time and Gems the opportunity to pass these savings on to their clients. Clients should note that if they wish to purchase a specific Rolex watch model but are not able to find it on Time and Gems' website, all they have to do is send in a request to the company and their timepiece experts will source for the specific watch and have it ready for sale within a matter of days.
3. Low Overhead Cost
Another reason why Time and Gems is able to offer their clients wholesale prices on Rolex watches is because the company does not spend much on overhead costs. Aside from a logistics warehouse and simple store in Los Angeles, Time and Gems does not have a conventional brick and mortar store that clients can shop at as everything is available online. The savings in high overhead costs are then passed on to their clients in the form of reasonably priced inventory.
Aside from low prices on Rolex watches, Time and Gems also offer quality Rolex watch servicing, free shipping, an extensive warranty and a flexible return and exchange policy. Although many may think this is too good to be true, satisfied clients of Time and Gems attest to the fact that Time and Gems is the forerunner in their field for these very reasons.
Deal of the Day:
At Time and Gems, buyers are treated to a wide range of pre-used Rolex watches, one of which is the Men's Rolex Stainless Steel Black Dial Black Bezel Oyster Bracelet GMT II (Item #1410)
Price: $7,545 Today Only: $7,000 (Bank Wire Price: $6,650) This leaves the buyer a total savings of $895.
To find out more about the other pre-owned Rolex watches on sale, as well as other offerings by Time and Gems, head to their website at http://www.timeandgems.com or call 1-888-658-5595.