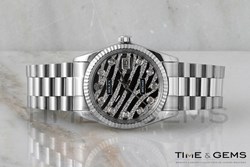 Los Angeles, California (PRWEB) August 24, 2013
Time and Gems, one of the world's largest online watch retailers, gives buyers tips and tricks on how to select and buy a pre-used Rolex watch.
For over three decades, Time and Gems have been in the luxury watch retailing industry and they know exactly how to select top-notch Rolex watches to be put on sale through their website. The experts at the company have put their heads together and decided to share a list of tips and steps buyers should take when choosing and buying a pre-used Rolex watch for either themselves or for their loved ones.
Here are some of the main things buyers need to pay attention to when buying a pre-owned luxury timepiece, be it through Time and Gems, or any other online watch retailer.
1. Extensive Warranty
There is no denying that one of the first things to take note of is the watch's warranty. Although most retailers offer some form of warranty on their products, others do not but opt to sell the watches for cheaper instead. The experts at Time and Gems advise all buyers to only buy pre-used watches if it comes with a comprehensive warranty, even if they may be more expensive than those without a warranty. This is mainly for peace of mind. Although Rolex watches are made to last a lifetime, if not longer, buyers do not know the history of the pre-used watch and may encounter problems down the road. Hence, with a warranty in place, buyers need not worry about high servicing and repair charges should the timepiece stop functioning for whatever reason. Buyers will be glad to know that all watches sold through Time and Gems come with an extensive two-year warranty. In the unlikely event that the Rolex watch stops working, or should any irregular wear and tear occur, the buyer does not have to worry about a thing as Time and Gems will repair or replace the watch for free.
2. Authenticity Certificate
With massive amounts of quality counterfeit goods currently on the market, it can be difficult to tell if the product is genuine or if it is just a good imitation piece. Most of the time, only trained experts are able to tell the difference. Hence, buyers have to insist on an authenticity certificate from a renowned and independent establishment. All watches sold through Time and Gems are thoroughly inspected and authenticated by the company's team of in-house watchmakers. On top of that, all Time and Gems' watches are appraised and authenticated by the Horological Appraisal Group of America. Each watch appraised by this organization comes with an authentication certificate for buyers to keep as proof of the watch's authenticity and retail value.
3. Return & Exchange Policy
It is important to verify the retailer's return and exchange policy before making a purchase. As shopping online is not an easy feat, it is important that the buyer ensure the retailer offers a flexible return and exchange policy. At Time and Gems, buyers are treated to a three-day return or refund and 10-day exchange policy. It is advisable for buyers to contact a customer representative to find out more.
Time and Gems's deal of the day:
One of the pre-owned Rolex watches for sale on Time and Gem's website is the Men's Rolex Stainless Steel Turquoise Stick Dial Smooth Bezel Oyster Band Air-King (Item #9069)
Price: $4,345
(Bank Wire Price: $3,910)
This leaves the buyer a total savings of $435 if the buyer chooses to pay via bank wire.
For a complete list of all the luxury watches on sale, head to http://www.timeandgems.com or call 1-888-658-5595.