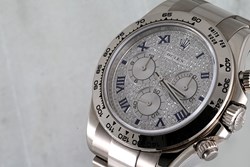 Los Angeles, California (PRWEB) August 30, 2013
The timepiece experts at Time and Gems wish to impart much needed advice and knowledge upon online shoppers and teach them a thing or two about shopping for pre-used Rolex watches online.
Be it shopping at Time and Gems or through other online retailers, buyers should pay attention to several main things when choosing a pre-owned Rolex watch. One of the main hindrances to shopping online is the inability for the buyer to feel, examine and try on the watch. That is why several other measures have to be taken into account to protect oneself from fraud. Here are some shopping tips by Time and Gems' expert jewelers and watch professionals.
1. Ensure That It Comes With a Warranty
This is one of the most important things to look out for. When a pre-used Rolex watch does not come with a warranty, the buyer should practice caution and steer clear from it. The same can be said of retailers who offer a lower rate for watches by removing the warranty. No matter what, buyers need to insist on a warranty to protect themselves and the watch. Time and Gems value honesty and always put quality above all else and offer a comprehensive two-year warranty on all Rolex watches sold through them. Should the Rolex watch stop working for whatever reason, or if it meets with irregular wear and tear, buyers are welcome to ship it back to Time and Gems's logistics warehouse in Los Angeles for either an exchange or complimentary fix.
2. Ensure That There Is a Return & Exchange Policy
Usually when one shops online, one will not know exactly what the item feels like until after receiving it. There are times when the buyer is disappointed with the item as it does not look like what was pictured on the website. Other times, the item may arrived damaged. If a retailer has a flexible return and exchange policy in place, buyers need not worry about issues such as these. All they need to do is to contact one of the retailer's customer representatives and request for a return or exchange. Time and Gems gladly offer a return and exchange policy with every purchase of a pre-used Rolex watch.
3. Ensure That There Is Free Shipping & Insurance
Rolex watches generally cost thousands of dollars and customers should enjoy free shipping with their expensive purchase. Additionally, because the watches will be shipped, often times traveling thousands of miles, it is important that it is insured to ensure that should theft or damage occur, the buyer does not need to worry about anything. Time and Gems proudly offers free shipping to all domestic and international addresses via UPS Priority Shipping. Additionally, all shipments are insured for peace of mind.
One of the pre-used Rolex watches on sale is the Men's Rolex Stainless Steel Black Dial Daytona (Item #5128) Price: $14,045
(Bank Wire Price: $12,640)
This leaves the buyer a total of $1405 should the buyer opt to pay via bank wire.
For more tips on how to shop for pre-used Rolex watches, or to find out what else is on sale through Time and Gems, call them at 1-888-658-5595 or head to http://www.timeandgems.com.