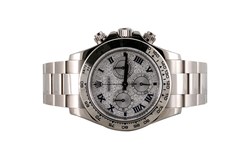 Los Angeles, California (PRWEB) September 10, 2013
Time and Gems have unveiled reasons why they are the number one choice amongst online shoppers looking to purchase pre-used Rolex watches.
As one of the largest online retailers on the web, Time and Gems (http://www.timeandgems.com) have been hailed as the place to head to for all one's Rolex needs. From quality Rolex watch servicing to a wide array of authentic Rolex watches, it is no secret how and why Time and Gems have skyrocketed to the top of their class. Here are some of the reasons why buyers enjoy shopping at Time and Gems.
1. Affordable Rolex Watches
When one thinks of the brand Rolex, one usually associates its price tags to that within the "unaffordable" and "unattainable" categories. However, Time and Gems have successfully managed to make owning a Rolex watch possible to the everyday Joe. Because the Rolex watches sold through Time and Gems are pre-used Rolex watches, the price tags reflect the change of ownership. Interestingly enough, when a brand new Rolex watch is sold, its retail value immediately depreciates. Hence, buyers of pre-owned Rolex watches are able to garner an authentic Rolex watch at a fraction of what it originally cost, no matter how recent its manufacture date was.
2. Comprehensive Warranty
It is always important to ensure that one has a warranty in place when one is dishing out thousands of dollars on a luxury item. Buyers who shop at Time and Gems need not worry about this as all Rolex watches sold through the company come with a comprehensive two-year warranty. Should the Rolex watch stop working for whatever reason, or if the watch encounters any irregular wear and tear, buyers can immediately ship the watch back to Time and Gems' logistics hub in Los Angeles and have the watch either fixed, replaced or returned at no extra charge.
3. Top-Notch Customer Service
Although Time and Gems does not operate the same way a conventional brick and mortar store does, it does not mean that the company does not value good customer service. On the contrary, Time and Gems is one of the few online retailers who offer such stellar online services. Should an interested buyer need information and help when choosing a Rolex watch, he or she can get in touch with one of the company's Non-Commissioned Expert Jewelers for some advise. Additionally, if the buyer has any questions regarding the Rolex watch such as shipping issues, warranty, return and exchange policies and so on, they are welcome to contact Time and Gems and they will be put in touch with a professional customer service representative who will do their very best to help them.
Aside from Time and Gems' attention to detail, online shoppers also enjoy shopping at Time and Gems because the company has one of the largest collections of Rolex watches on the online market.
Time and Gems's Deal of the Day on pre-used Rolex watches is the Men's Rolex Black Coated DLC/PVD Black Dial Red Submariner (Item # 5016).
Price: $9,145
Today Only: $8,500
(Bank Wire Price : $7,650)
This leaves the buyer a total savings of $1,495.
For more information on Time and Gems and what they can do for their customers, along with the entire list of Rolex watches on sale, contact the company at 1-888-658-5595 or check out http://www.timeandgems.com.