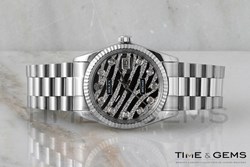 Los Angeles, California (PRWEB) September 24, 2013
Time and Gems, one of the world's largest luxury watch retailers in the world, is unveiling why online shoppers should shop with them as opposed to their competitors within the industry.
For over 30 years, Time and Gems have been offering authentic pre-used Rolex watches and other luxury watch brands to those seeking a good deal. The last eight out of those three decades were spent strengthening their online presence and there is no denying that Time and Gems is one of the top players in their industry. Not only does their experience count for a major part of why they are the best, there are multiple other reasons why they continue to reign on top and here are the top three.
1. Largest Selection of Rolex Watches
Time and Gems has the largest selection of pre-used luxury watches online, particularly Rolex watches. These watches are fully in stock and ready to be shipped. Buyers are guaranteed that they will not be disappointed after selecting the watch of their dreams from the website. Additionally, should the buyer wish to purchase a specific Rolex watch model that is not available for sale on the website, all they have to do is to contact Time and Gems and the watch experts will source for it and have it ready to be shipped within a matter of days. With over 250 authorized resellers and wholesalers within their network of suppliers, Time and Gems undoubtedly has the largest selection and stock of pre-used Rolex watches to choose from.
2. Price Match and Competitive Rates
In order to stay ahead of the game, Time and Gems offers the best prices on pre-used Rolex watches in the industry. If the buyer happens to find another retailer offering a better rate for the same make and model, Time and Gems will unquestioningly match or beat the price. Additionally, because Time and Gems operates based on a very successful and efficient business model, they are able to pass on their vast savings to their buyers, ensuring low rates on pre-owned Rolex watches.
3. Authentic Rolex Watches
Rolex watches are one of the most widely counterfeited luxury watches in the world and there is no denying that the market is flooded with fakes. From the cobblestoned streets of Paris to the alleyways of Bangkok, imitation Rolex watches are a dime a dozen. At Time and Gems, only authentic Rolex watches go through their double doors. Buyers who purchase a Rolex watch from Time and Gems can rest assured that they are buying an authentic timepiece. Not only does Time and Gems ensure that the watch goes through a strict appraisal and authentication process conducted by their certified timepiece experts, all watches sold through the company are authenticated by the Horological Appraisal Group, an independent organization that appraises and authenticates timepieces.
As the largest online retailer of authentic pre-used Rolex watches, Time and Gems is pleased to offer a myriad of Rolex collections such as the Rolex Datejust, Rolex SeaDweller, Rolex Day-Date, Rolex Daytona and many more.
Time and Gems Deal of the Day is the Men's Rolex Two-Tone Black Roman Dial Beadset Bezel Oyster Band Datejust (Item #171)
Price: $5,545
Flash Sale: $5,079
(Bank Wire Price: $4,571)
This leaves the buyer a total savings: of $974
For more information on the other Rolex watches on sale, contact Time and Gems at 1-888-658-5595 or check out their website http://www.timeandgems.com.