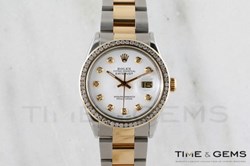 Los Angeles, CA (PRWEB) September 26, 2013
The experts at Time and Gems, the world's largest online luxury watch retailer, are graciously unveiling ideas on how buyers can save money when shopping for a pre-used Rolex watch online.
There is no denying that shopping online is difficult. When the buyer is unable to feel, touch, smell and see the product in person, it may lead to major disappointment especially if it is an expensive item or if the retailer does not offer a refund or exchange. Hence, Time and Gems is pleased to offer tips on how to shop for pre-used Rolex watches online and how to make the most of the purchase to save money.
1. Comprehensive Warranty
When shopping for a pre-used Rolex watch online, one of the most important things to look out for is to ensure that the timepiece comes with a good warranty. As trustworthy and experienced as the retailer may be, it is still important to cover every base. With a warranty, buyers are able to save money on servicing and fixing the Rolex watch. For example when it comes to Time and Gems, every Rolex watch sold comes with a comprehensive 2-year warranty. This warranty covers all irregular wear and tear. Additionally, should the timepiece stop working for whatever reason, the buyer can easily ship it back to Time and Gems' logistics hub in Los Angeles at no cost. Time and Gems even promises to pay for shipping and will either fix, exchange or refund the watch at no extra cost.
2. Guaranteed Authenticity
With all the counterfeit watches available in the market now, it is best for the buyer to invest in a Rolex watch that comes with an authenticity certificate from an independent and unbiased organization. With an authenticity certificate comes the ability for the buyer to resell the watch at a good retail value and not lose money at the end of the day. Time and Gems is pleased to offer an authenticity certificate from the Horological Appraisal Group. This organization is tasked with authenticating every Rolex watch that goes through its doors and buyers who shop at Time and Gems can be sue that what they are buying is an original Rolex watch.
3. Complimentary Priority Shipping
When one forks out thousands of dollars on a pre-used Rolex watch, one should expect top-notch service. This should include priority shipping. Time and Gems does not disappoint as they offer free shipping and insurance to anywhere in the world the buyer wishes the Rolex watch to be shipped to. Although small in comparison to the ultimate price of the watch, the amount the buyer saves in priority shipping and insurance can come up to a rather sizable total.
4. Online Deals
Many online retailers offer deals and promotions on their pre-used Rolex watches. This gives the buyer the opportunity to save some money when choosing the watch of their dreams. Time and Gems offers a myriad of money saving opportunities such as bank wire pricing, where buyers get 5% off their total checkout price if they pay via bank wire, and occasional promotions and wholesale events. Buyers are treated to a stellar inventory at low prices and buyers are urged to look out for money saving deals.
Time and Gems also offers another money saving opportunity known as the "Deal of the Day". The company offers up a different pre-used Rolex watch with a significantly reduced price tag every day. Today's "Deal of the Day" is the Men's Rolex Two-Tone Blue Diamond Dial Fluted Bezel Oyster Band Datejust (Item # 128)
Price: $4,745
Deal of the Day: $4,508
This leaves the buyer a total savings of $237
For more information on what other pre-used Rolex watches are on sale, contact Time and Gems at 1-888-658-5595 or log on to http://www.timeandgems.com.