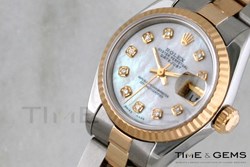 Los Angeles, California (PRWEB) October 08, 2013
Time and Gems is the web's top online luxury watch retailer that specializes in pre-used Rolex watches, and they have one of the largest collections to appease even the most discerning of buyers.
There is no denying that Time and Gems is on top of their game. For over 30 years, this veteran company has been offering authentic pre-used Rolex watches to buyers looking for quality products at a bargain. The last eight of those 30 years were spent focusing on the online market. The vast experience that Time and Gems have built up has secured their reputation as one of the best and most trusted retailers of luxury timepieces online.
One of the reasons why Time and Gems is so popular amongst online shoppers is the simple fact that the company understands that price is important. Rolex watches are renowned for being very expensive, and Time and Gems know that even a small discount on the watch's original retail value will be a big help to the buyers. Time and Gems goes the extra mile and offers more than just a small percentage off. The company is well known for offering authentic pre-used Rolex watches at unbeatable rates. Here are some of the reasons why Time and Gems is able to offer low rates on their inventory.
1. Vast Network of Suppliers
Being in the industry for three decades certainly has its perks. Time and Gems has successfully amassed a large network of more than 250 authorized luxury watch resellers and wholesalers throughout the world. The company's reach is unprecedented and this has enabled them to secure large inventories at one go at low rates. The savings that Time and Gems garner from their suppliers are then passed on to their buyers in the form of low price tags on the Rolex watches.
2. Low Overhead Costs
Unlike other conventional retailers who operate out of brick and mortar stores around the world, Time and Gems only operates a small logistics center and store in Los Angeles and focuses mostly on its online side of the business. This has enabled them to save a lot on overhead costs such as high rent and utility bills. In addition to that, the company has a handful of highly trained timepiece experts who communicate with clients online, thus saving them hundreds of thousands of dollars a year on labor costs to staff brick and mortar stores. The savings that Time and Gems is able to make from low overhead costs is then passed on to their buyers through their competitively priced inventory.
Time and Gems is well known for being the cream of the crop in their industry simply because they care about saving their clients' money and making them happy with authentic pre-used Rolex watches. According to Time and Gems, many of their clients are return customers and almost all of them have spread the word to their friends and family, expanding the company's client base tenfold.
Deal of the Day
One of the many pre-owned Rolex watches on sale now is the Men's Rolex Stainless Steel Silver Arabic Dial Smooth Bezel President Band Datejust (Item #463)
Price: $3,645
Today Only: $3,000
(Bank Wire Price: $2,850)
This leaves the buyer a total savings of $795
For a complete list of all the other Rolex watches on sale at great rates, contact Time and Gems at 1-888-658-5595 or check out their website.