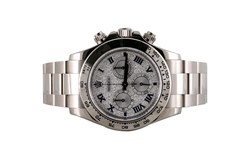 Los Angeles, California (PRWEB) August 26, 2013
Time and Gems, one of the top online retailers of pre used luxury watches, have announced that buyers should now take advantage of their summertime special and shop from a wide variety of men's Rolex watches.
Buyers will be spoilt for choice when it comes to choosing the Rolex watch of their dreams. Whether it is a gift for a loved one, or a treat for themselves, Time and Gems' (http://www.timeandgems.com) extensive collection of Rolex watches guarantees that there will be something for everyone.
Although Rolex watches are the perfect year-round accessory, Time and Gems have decided to unveil the latest collection of Rolex watches for men this summer, giving buyers plenty of time to shop for the perfect Rolex watch. There are many reasons why Time and Gems are hailed as one of the top retailers on the web and here are two of the top reasons why customers love shopping with them.
1. Customer Service
Time and Gems take pride in the quality of their customer service. To the company, the customer always comes first and they will do all they can to make the customer happy. For example, when buyers are shopping for a pre-owned Rolex watch on Time and Gems' website, they will notice a small box on the right hand column, urging them to contact one of the company's non-commissioned Jeweler Experts if they need help. Be it getting some background information on a particular Rolex watch, or getting advise on which watch is best for his or her lifestyle, the buyer will be pleased to note that no question is too big or too small for Time and Gems' representatives to answer. Shopping online is made very easy with the help of Time and Gems' customer service representatives.
2. Free Shipping
Although most other retailers offer free shipping, Time and Gems also do the same for international orders. No matter where in the world the customer is, Time and Gems will gladly insure and ship the Rolex watch to them at no extra charge. Additionally, should the buyer find any problems with the watch upon receiving it, he or she is welcome to ship it back to the company's logistics center in Los Angeles to get it returned, exchanged or fixed at no extra shipping charge. All they have to do is to send the watch back on Time and Gems' account.
For over thirty years, time and gems have been the cream of the crop when it comes to luxury watch retailers. Out of the 30 years that they have been in business, the past eight have been focused on online retailing. Their experience and extensive amount of time spent with a myriad of clients have led them to fully understand what it takes to be a top player in the industry.
One of the pre-owned Rolex watches for sale this summer is the Men's Rolex Two-Tone Black Dial Black Bezel Submariner 2002 (Item #9019)
Price: $8,545
(Bank Wire Price: $7,690)
This leaves the buyer a total savings of $855 should they opt to pay via bank wire.
For more information on what other Rolex watches for men are on sale, or to speak to a customer service representative, contact Time and Gems at 1-888-658-5595 or log on to http://www.timeandgems.com.