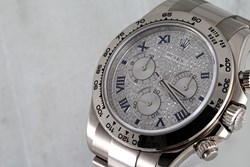 Los Angeles, California (PRWEB) September 25, 2013
Time and Gems is pleased to unveil their latest additions to their already vast collection of authentic pre-used Rolex watches for men.
Online shoppers at Time and Gems (http://www.timeandgems.com) are promised an excellent selection of men's Rolex watches in conjunction with the tail end of summer. Buyers will be able to get not only the more obscure models, but also the most popular ones.
As one of the largest online luxury watch retailers around, Time and Gems offer authentic Rolex watches at affordable rates. For over 30 years, Time and Gems have worked hard at making a name for themselves. Over time, the company has amassed an extensive network of over 250 international authorized re-sellers and wholesalers, they are able to garner a myriad of Rolex watch collections at incredibly great rates. Here are some of the pre-used Rolex watch collections that buyers will be able to get for a song.
1. Rolex Air-King
Watches from the Rolex Air-King collection is undoubtedly one of the most recognizable models around. Depending on the model and year of production, the Rolex Air-King is probably one of the least expensive Rolex watches one could purchase. This has nothing to do with quality levels as all authentic Rolex watches boast optimum quality and engineering. Rather, the Rolex Air-King is sized a little smaller than its other Rolex counterparts and is simpler in design and function. The Rolex Air-King is perfect for those seeking a simple yet classy Rolex watch. Time and Gems has nine Rolex Air-King models currently on sale and buyers are urged to snap one up soon.
2. Rolex Submariner
The Rolex Submariner is the ultimate sports watch and boasts style and incredible features. The first Rolex Submariner was introduced to the world in 1954 and is considered one of the most popular and beloved classics. Designed for diving, the Rolex Submariner is known for its water resistance and its ability to withstand corrosion. Because of its versatility, the Rolex Submariner is perfect for buyers who wish to transition from day to night without having to switch accessories. From the dive boat to a black tie event, the Rolex Submariner is perfect for the man on the go. Time and Gems has 57 Rolex Submariner models on sale and buyers who wish to own a piece of history are encouraged to browse through the selection.
3. Rolex Milgauss
Another extremely popular model is the Rolex Milgauss. According to Rolex, this model was designed to meet the needs of the scientific community. The Rolex Milgauss is able to withstand magnetic fields of up to 1,000 gauss, hence its name. With innovative components and enhanced protection from magnetic interference, the Rolex Milgauss is for the man who wishes to have a story behind his Rolex watch. Currently, Time and Gems has six Rolex Milgauss models up for grabs.
Aside from these three collections, Time and Gems also carries all other Rolex models. Be it old or new, every pre-used watch undergoes a strict verification process to authenticate it. Buyers can be sure that they are getting the real deal.
Time and Gems deal of the day is on Men's Rolex Black Coated DLC/PVD Green Milgauss (Item #5009) Price: $10,045
(Bank Wire Price: $9,040)
This leaves the buyer a total savings of $1005 if they pay via bank wire.
For more information on other Rolex watches on sale, contact Time and Gems at 1-888-658-5595 or http://www.timeandgems.com.