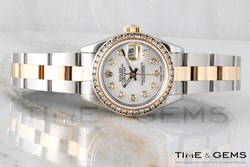 Los Angeles, California (PRWEB) October 02, 2013
Time and Gems, the top online luxury watch retailer, gives buyers tips on how to save money when shopping for a Rolex watch.
For over thirty years, Time and Gems have been in the industry of supplying luxury timepieces to the public, and Rolex watches are undoubtedly the most popular product that they offer. However, it is no secret that Rolex watches are expensive and sadly, not many people are able to afford the watch of their dreams.
In light of this, the timepiece experts at Time and Gems have come up with several steps that buyers can follow to ensure that they do not overspend when they finally decide to buy a Rolex watch.
1. Look Out for Promotions
Promotions, sales and wholesale events make for great opportunities to buy a Rolex watch. A great example of a money saving promotion hosted by Time and Gems is the "Deal of the Day". This deal gives buyers the chance to buy a Rolex watch for a very reasonable price. Everyday, Time and Gems chooses a different Rolex watch and significantly reduces its price to be put on sale as the "Deal of the Day". Buyers then have 24 hours to decide if they want to buy that particular Rolex watch. If the "Deal of the Day" is not to their tastes, the buyer can then wait for the next day's deal and so on.
2. Buy Pre-Used Rolex Watches
Another great way to save money when buying a Rolex watch is to buy one that is pre-used. Many people tend to shrug off the fact that pre-used Rolex watches are any good and choose to spend thousands more on something that is brand new. On the contrary, pre-used Rolex watches are just as good as their brand new counterparts. The reason why Time and Gems is able to price these pre-owned Rolex watches so competitively is because the moment a brand new Rolex watch is bought, its retail value depreciates significantly. Hence the reason why pre-used Rolex watches are so much cheaper than brand new ones. This simply has to do with the nature of Rolex watches' depreciation cycle as opposed to the assumption that it is of inferior quality. Time and Gems ensures that all pre-used watches sold through them are authenticated and restored. Buyers will have no problems whatsoever should they buy a pre-used Rolex watch through Time and Gems.
3. Ensure There is a Warranty
Like with buying anything of value, it is always advisable that the buyer ensure the pre-used Rolex watch they buy comes with a good warranty. This is to ensure that should anything happen to the watch, such as irregular wear and tear, the buyer is able to save money on the servicing fee as the warranty will cover its cost. Additionally, should the Rolex watch stop working for any reason, Time and Gems will happily return, exchange or fix the watch at no extra cost, meaning that the buyer is able to saves hundreds, if not thousands of dollars, on getting the faulty watch taken care of.
Time and Gems is pleased to offer today's "Deal of the Day" as the Men's Rolex Two-Tone Blue Diamond Dial Fluted Bezel Jubilee Band Datejust (Item # 103)
Price: $4,145
Deal Of the Day: $3,938
(Bank Wire Price: $3,544)
This leaves the buyer a total savings of $601
For more information on Time and Gems' "Deal of the Day", along with the other pre-used Rolex watches for sale, contact them at 1-888-658-5595 or check out their website.