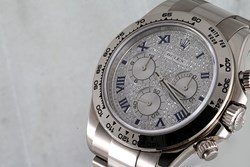 Los Angeles, California (PRWEB) November 17, 2013
Time and Gems' highly anticipated fall sale is back and buyers have an excellent variety of pre-owned Rolex watches to choose from.
Whether the buyer is looking for a Rolex watch for personal use, or as a gift for someone else, there is no denying that Time and Gems will have it. Boasting one of the largest collections of pre-owned Rolex watches on the market, Time and Gems is well known for offering great deals on pre-used Rolex watches.
This ongoing fall sale will play host to some of the lowest priced Rolex watches ever offered by the company. From snazzy Rolex Datejust models to versatile Rolex Submariner timepieces, there will undoubtedly be something for everyone. Here are some of the most popular authentic Rolex collections on sale.
1. Rolex Submariner
One of the top reasons why buyers love watches from the Rolex Submariner line is because of how versatile the watches are. Not only do these watches boast a sleek and classy design, they are also engineered to go the extra mile. Launched in 1954, this collection was created with deep sea divers in mind. With a water resistance depth of up to 300 meters, the Rolex Submariner is also well known for being corrosion resistant. The Rolex Submariner paved the way for the Rolex Sea Dweller and Rolex Deep Sea Dweller. These watches are a heavy duty version of the Rolex Submariner and can withstand depths of up to 3,900 meters. Time and Gems is pleased to announce that numerous pre-used Rolex watches from these three collections are currently on sale.
2. Rolex Datejust
The Rolex Datejust was introduced to the public in 1945 and is known as the first wristwatch with a date function. Presented to U.S. Air Force pilots in 1955, the Rolex Datejust is undoubtedly an all-time favorite amongst Rolex lovers. Numerous celebrities have also been known to sport the Rolex Datejust both on and off screen, sealing this collection's fate as one of the best selling collections of all time. During Time and Gems' fall sale, buyers will be treated to a variety of top-notch pre-used Rolex Datejust watches at affordable rates.
3. Rolex Day-Date
The Rolex Day-Date is one of the most popular Rolex collections ever made. Launched in 1956, the watches in this collection are certified self-winding chronometers. Renown as the first wristwatch to display both the day and the date, the Rolex Day-Date is steeped in history. Certain models from this collection are highly sought after by Rolex collectors the world over. Rolex also exclusively produces a special bracelet for one of the models within the Rolex Day-Date collection. Known as the Rolex Presidential, these models only come in gold and are the epitome of class and style. Time and Gems is pleased to announce that both the classical Rolex Day-Date and Rolex President watches are available during the ongoing fall sale.
One of the many pre-owned Rolex watches on sale is the Men's Rolex Two-Tone Mother Of Pearl Diamond Dial Beadset Bezel Datejust (Item #141).
Price: $7,494
Sale Price: $6,494
This leaves the buyer a total savings of $1,000.
For more information on other pre-used Rolex watches on sale, contact Time and Gems at their website or 1-888-658-5595.