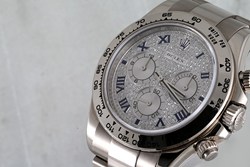 Los Angeles, California (PRWEB) August 09, 2013
By extending their once-a-year 4th of July wholesale event, Time and Gems gives buyers another reason to return for more great deals on pre-owned Rolex watches.
As one of the top online luxury watch retailers on the web, Time and Gems (http://www.timeandgems.com) is giving shoppers worldwide the chance to buy an authentic Rolex watch at wholesale prices. At the beginning of July 2013, Time and Gems announced the launch of their annual 4th of July event and although the end of July is fast approaching, Time and Gems has decided to extend this sale to cater to last minute summer shoppers.
Although this extension may seem unfair to early-bird shoppers, meaning those who took advantage of the sale at the beginning of the month, there are several reasons why Time and Gems has decided to keep this particular wholesale event an ongoing experience. Here are some of the top reasons why Time and Gems has chosen to do so:
1. To Benefit Return Customers
Many early-bird shoppers have decided to come back for more. Due to the excellent customer service, prompt shipping and extensive range of authentic pre-used Rolex watches up for grabs, many shoppers have decided to take advantage of the sale to purchase more Rolex watches, not just for themselves but for loved ones. According to Roman Knightley, "I purchased a Rolex Datejust the day the sale started, but because I learned that the sale was still ongoing and I was very satisfied with my purchase, I decided to head back to Time and Gems to get another Rolex watch for my wife." According to Knightley, he does not know when another sale like this will take place and decided to take advantage of all the great deals now.
2. To Make Room for New Inventory
By offering buyers its current inventory at wholesale rates, Time and Gems will be able to clear most of the collections it currently has on display to make room for more Rolex watches. As the demand for pre-owned Rolex watches is very consistent, it makes sense for a busy online retailer like Time and Gems to constantly update what they have available for sale. This will give return customers the chance to browse through the latest offerings and perhaps entice more people to shop on their website. By keeping their inventory fresh and exciting, more people will be prone to visit Time and Gems if they are interested in buying a Rolex watch.
3. To Entice New Shoppers
There is no denying that wholesale events and special sales will bring in new clients. Aside from conventional advertising, Time and Gems also relies heavily on word of mouth. When satisfied clients tell their friends and family that Time and Gems is hosting an ongoing wholesale event, it usually takes several days before these prospective clients have the time to log on to the website and make up their mind as to whether they would like to buy a pre-used Rolex watch. The extended sale gives this target market the chance to browse through the watches on sale and to finally decide on the watch of their dreams.
Although this wholesale event is currently ongoing, Time and Gems have hinted that it may end soon. Hence, interested buyers are encouraged to take advantage of this event before it is too late. One of the watches up for grabs is the Men's Rolex Two-Tone Rose Gold Black Stick Dial Fluted Bezel Oyster Band Datejust (Item #)
Price: $4,345 Today Only: $4,000 (Bank Wire Price: $3,800) This leaves the buyer a total savings of $545
For more information on the other pre-owned Rolex watches on sale, log on to http://www.timeandgems.com or call 1-888-658-5595 to speak to a customer service representative.