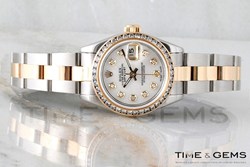 Los Angeles, CA (PRWEB) August 13, 2013
Time and Gems have recently announced that they now have a new collection of men's Rolex watches for sale to tie in with summer time.
Time and Gems is pleased to announce that they offer the largest selection of pre-used Rolex watches for men on the web. These Rolex watches range from the extremely popular Day-Date and Datejust collections, to sport and specialty models such as the Rolex Submariner, Daytona, GMT Master and Yacht-Master collections.
With cases that range in size from 34mm to 44mm, buyers will be spoilt for choice when it comes to choosing the Rolex watch they desire. With a variety of bands, bezels and dials available, buyers can select from this wide range and make custom settings and fittings if they wish. These add-ons are factory original or if buyers want, can also opt for those with diamond and material enhancements.
Although everyone has different tastes and styles, Time and Gems report that there are several Rolex collections that are the most common amongst male shoppers. Here are the top three Rolex collections for men based on the number of watches that are sold through Time and Gems.
1. Rolex Datejust
The Rolex Datejust collection is one of the most popular collections ever created by Rolex. Launched in 1945, the Rolex Datejust was the first wristwatch with a date function. Time and Gems offer a variety of Rolex Datejust models ranging from those made of stainless steel to two-tone models. Buyers can also opt for matching jubilee or oyster bands and can select from a variety of dial and bezel combinations.
2. Rolex President
Part of the Rolex Day-Date collection, the Rolex President is a nickname given to this specific range after Rolex presented former President Eisenhower with this very same Rolex Day-Date model. The Rolex President features a calendar mechanism that displays the day and date. The Rolex President is only available in gold and is the symbol of class, quality and style. Time and Gems currently offer one of the largest selections of pre-owned Rolex Day-Date watches, specifically Rolex President models.
3. Rolex Submariner
Although water resistant watches are taken for granted nowadays, no one can create a water resistant watch quite like Rolex. Interestingly the Rolex Submariner was introduced in 1954 and designed for diving purposes, hence it's name. Known as the world's first truly water resistant watch, the Rolex Submariner boasts a patented triple-seal trip-lock winding crown. Its 40mm case can exceed depths of over 300 meters and this model is loved by collectors and divers alike. Time and Gems offer both vintage and modern Rolex Submariner case styles, along with unique band, dial and bezel combinations. Buyers are also urged to find out more about Time and Gems' award winning DLC finish.
To tie in with summer, Time and Gems is offering up a sizzling platter of some of the most popular Rolex watches in the world. One of the pre-used Rolex watches up for grabs is the Men's Rolex Stainless Steel Blue Diamond Dial Submariner (Item #5101)Price: $13,045.
Bank Wire Price: $11,740
This leaves the buyer a total savings of $1305.
To learn more about the other Rolex collections Time and Gems has on sale, head to http://www.timeandgems.com or call 1-888-658-5595 today.