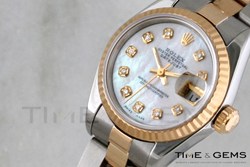 Los Angeles, CA (PRWEB) August 14, 2013
Online luxury watch retailer Time and Gems shares with the world the top reasons why they are so popular amongst online shoppers looking to purchase pre-owned Rolex watches.
For over 30 years, Time and Gems have been serving their clients more than just genuine Rolex watches. With decades of experience in dealing with clients from all walks to life, Time and Gems have narrowed down why clients keep coming back for more to a list of five reasons. Aside from an extensive collection of Rolex watches, here are some of the top perks of shopping online at Time and Gems.
1. Authenticity Certificate
Time and Gems know that it can be challenging shopping for luxury goods online. With the inundation of imitation goods on the market, it is hard for buyers to tell if the item is authentic or not, especially if they are unable to see it in person before buying it. However, all clients at Time and Gems are guaranteed that only authentic pre-used Rolex watches are put on sale. To qualm buyers' fears, Time and Gems offer an authenticity certificate from the Horological Appraisal Group of America, an independent and unbiased organization. This certificate details the Rolex watch's authenticity and retail value. Buyers are also urged to have the watch appraised or verified anytime after purchase.
2. Extensive Warranty
A comprehensive two-year warranty is offered to all clients who purchase Rolex watches through Time and Gems. In the rare case that the Rolex watch stops working, or if any irregular wear and tear should occur, the buyer can ship it back to Time and Gems' logistics hub in Los Angeles and the company's team of experts will immediately fix it or exchange it at no extra cost. Buyers do not even need to pay for the shipping charges as all they need to do is ship the Rolex watch back using Time and Gems' UPS or FedEx account.
3. Flexible Return & Exchange Policy
Every Rolex watch sold comes with a three-business day return policy. The buyer has three days to inspect the watch and alert Time and Gems if they find that the watch is not as described, and if they wish to return it for a refund. Any requests past the three days will be denied a refund. However, buyers can also opt to exchange or fix the watch once the three day period is over. Buyers are urged to contact one of Time and Gems' expert customer service representatives for further details.
4. Bank Wire Price
Time and Gems offers a 5% discount on all purchases if clients choose to pay via bank wire at checkout. Although conventional methods of payment such as credit and debit card are accepted, buyers are offered an additional 5% discount if they conduct a simple bank wire or direct deposit.
5. Free Priority Shipping
Free shipping applies not just to local addresses, but to those who reside overseas as well. Time and Gems ship all packages via UPS Priority Shipping and by request, also offer USPS and FedEx shipping.
Buyers can now rest assured that Time and Gems offer not only genuine pre-used Rolex watches, but excellent pre and post service as well. One of the watches currently on sale is the Men's Rolex Stainless Steel Black Dial Sapphire Bezel Submariner (Item #5104).
Price: $12,045
Bank Wire Price: $10,840
This leaves the buyer a total savings of $1205 if they choose to pay via bank wire.
For more information on what else Time and Gems is offering their clients, call 1-888-658-5595 or head to http://www.timeandgems.com for detailed information.