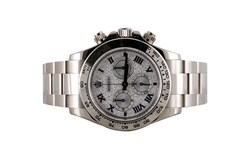 Los Angeles, California (PRWEB) August 22, 2013
Time and Gems is pleased to unveil the top reasons why they are consistently the number one choice of online shoppers who are looking to buy authentic pre-used Rolex watches.
For over three decades, the experts at Time and Gems have been in the luxury watch retailing industry and over that time, they have learned to pinpoint exactly what makes their clients tick. Coupling professionalism and authentic Rolex watches, Time and Gems offers everything the buyer needs to ensure their shopping experience as well as purchases live up to their standards.
Here are the top reasons why Time and Gems is continuously hailed by consumers as the website to head to for pre-owned Rolex watches.
1. Professional Service
Unlike other online retailers, Time and Gems have opted to pay close attention to customer service. They have come to realize that when the customer is happy, they will be bound to return. From choosing the perfect Rolex watch for an anniversary present to working out the terms and conditions of the return and exchange policy, Time and Gems' slew of professional customer service representatives are on standby to help every client who needs help. Additionally, Time and Gems' non-commissioned Expert Jewelers are on hand to help the buyer make the right decision when choosing a Rolex watch.
2. Authenticity Certificate
Although Time and Gems only deals with genuine Rolex watches, many buyers insist on proof due to the inundation of counterfeit products on the market. Hence Time and Gems ensures that every watch purchased through them comes with an authenticity certificate from the Horological Appraisal Group of America. This independent organization authenticates and appraises the watch, giving it its retail value. Buyers should also note that all watches sold through Time and Gems go through a strict cleaning and authentication process conducted by their team of expert watchmakers.
3. Consistent Promotions
Time and Gems is renowned for holding special sales and warehouse events to tie in with major social holidays like Mother's Day, Father's Day, the 4th of July, Valentine's Day and many more. This gives buyers the chance to be able to afford and finally own the watch they have been yearning for. Partnering with over 250 authorized retailers and wholesalers has its perks, as Time and Gems is able to amass many authentic Rolex watches at bulk rates, giving buyers the chance to enjoy wholesale prices.
4. Free Shipping
No matter where the buyer is in the world, Time and Gems will gladly insure and ship the purchased Rolex watch for free. Whether the buyer lives in Kuala Lumpur, Melbourne, Lyon or in Philadelphia, Time and Gems offer complimentary shipping via UPS Priority Shipping. Buyers usually do not have to wait longer than seven business days to receive their Rolex watch.
Time and Gems's Deal of The Day:
In conjunction with Time and Gems' latest collection for men, the company has decided to hold a special promotion for Men's Rolex watches. One of the many watches for sale is the Men's Rolex Two-Tone Mother of Pearl Diamond Dial Fluted Bezel Oyster Band Datejust (Item #138)
Price: $4,745
(Bank Wire Price: $4,270)
This leaves the buyer a total savings of $475 if the buyer chooses to pay via bank wire.
To find out what other Rolex watches for men are on sale, head over to Time and Gems' website at http://www.timeandgems.com or call and speak to one of their customer service representatives at 1-888-658-5595.