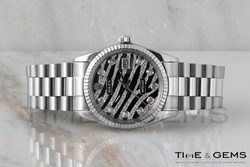 Los Angeles, California (PRWEB) August 29, 2013
Time and Gems have unveiled the top selling pre used Rolex watch collections this summer to help buyers make an informed decision when shopping for the watch of their dreams.
According to a representative from Time and Gems (http://www.timeandgems.com), "Most of them time the numbers speak for themselves, hence when there is a spike in the popularity of a particular collection, it speaks volumes about what consumers think and feel about that collection at that point of time."
Although all Rolex watches are timeless and engineered to last for generations, there is no denying that the season's fashion trend plays a role in determining which Rolex collection is most popular amongst consumers. There is no denying that other factors come into play, such as the buyer's lifestyle and personal tastes, but in general, consumers tend to gravitate towards what is most popular and practical at the time of purchase. Here are the top three collections that are faring well this summer in line with Time and Gems' summer special for men.
1. Rolex Datejust
The Rolex Datejust is a certified, self-winding chronometer watch that was launched in 1945. As the first wristwatch engineered by Rolex with a date function, it was hailed as a marvel and was quickly deemed one of the top Rolex watches to be made. In 1955, the Rolex Datejust Turn-o-Graph model was awarded to U.S. Air Force pilots returning from combat missions, sealing the collection's fate as one of the most sought after in the Rolex family. Buyers seeking watches from the Rolex Datejust will be pleased to know that Time and Gems have over 450 different pre-used watches to choose from. Loved by Rolex collectors and everyday buyers alike, watches from this timeless collection are veritable gems. The standard Rolex Datejust for men is available in steel, yellow gold, everose gold and steel with white.
2. Rolex Submariner
The Rolex Submariner was introduced in 1954 at the Swiss Watch Fair. Its classic look and practical features have made it one of the most popular Rolex watches in the market. Throughout the next forty years after it was launched, Rolex has continuously updated and improved upon the Rolex Submariner by giving it minor cosmetic changes, improved water resistance and updated movements. The 50th anniversary of the Rolex Submariner was celebrated in style as Rolex launched a limited edition Rolex-Submariner Date model with green bezel and Maxi dial. Made for diving aficionados, the Rolex Submariner paved the way for other hardcore water resistant Rolex models such as the Rolex Deep Sea Dweller. Buyers interested in this model will be glad to know that Time and Gems have over 50 top notch pre-owned Rolex Submariner watches for them to choose from.
3. Rolex Daytona
Another favorite is the Rolex Daytona. The original series was introduced in 1963 and featured a manual wind movement. Because it was only produced for a limited time, the original series is now very high in demand, especially amongst Rolex collectors. The latest Rolex Daytona watches boast a self-winding chronometer with chronograph functions. It's classic yet sporty look make it a favorite amongst summer time shoppers. With over 30 different watches to choose from, lovers of this collection will be spoilt for choice.
In line with Time and Gems' summer special for men, one of the Rolex Daytona watches for sale is the Men's Rolex Stainless Steel Mother of Pearl Dial Daytona (Item #5127)
Price: $14,045
(Bank Wire Price: $12,640)
This leaves the buyer a total savings of $1405 if they opt to pay via bank wire.
To find out what the other top sellers this summer are, contact Time and Gems at 1-888-658-5595 or log on to http://www.timeandgems.com.