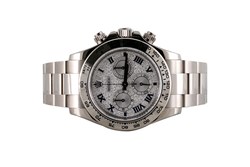 Los Angeles, California (PRWEB) September 18, 2013
Time and Gems, one of the world's largest online luxury watch retailers, offer quality pre-used Rolex watches at affordable prices, giving everyone who goes through their doors the chance to own the watch of their dreams.
Time and Gems are in the business of making dreams come true. There is no denying that buying a luxury watch such as a Rolex does not come cheap and sadly, many people live their entire lives without having the chance to own one. However, with the emergence of Time and Gems on the market, buyers now have the opportunity to afford a Rolex watch of their very own.
Boasting a wide collection of pre-used Rolex watches, along with additional perks, Time and Gems have quickly become one of the most popular online watch retailers to head to. Online shoppers have been known to flock to Time and Gems by the droves to browse and buy the perfect Rolex watch. Here are some of the many reasons why Time and Gems is so popular amongst online shoppers.
1. Large Collection of Authentic Rolex Watches
When spending thousands on the perfect Rolex watch, it is no secret that buyers prefer to be faced with choices. Time and Gems is proud to be able to say that they offer one of the largest collections of Rolex watches online. Shoppers at Time and Gems are spoilt for choice when it comes to selecting the watch of their dreams. From the Rolex Daytona collection to the Rolex Submariner range, buyers will find everything they need and want. Additionally, all watches sold through Time and Gems are authentic. To prove it, all watches come with an authenticity certificate from the Horological Appraisal Group, an independent organization that authenticates and appraises luxury timepieces. Not only that, Time and Gems ensures that every watch undergoes a strict protocol of inspection and authentication by their team of expert watchmakers before being put on sale.
2. Comprehensive 2-year Warranty
Should a buyer decide to spend thousands of dollars on an item, he or she will expect it to be covered by a good warranty. Time and Gems appreciates the wants and needs of their customers and provide a comprehensive 2-year warranty for every watch bought through them. Should the Rolex watch stop working for whatever reason, or if it encounters any irregular wear and tear, buyers are welcome to take advantage of their warranty and send the watch back to Time and Gems to either get fixed, exchanged, or returned.
3. Remarkable Pre- and Post-Purchase Service
Unlike many other online retailers, Time and Gems know how important it is to focus on customer service. If the customer is happy, everyone is happy. Hence, Time and Gems have implemented a system whereby shoppers are always able to contact a customer service representative. Whether they are seeking advice on what type of Rolex watch to buy, or finding out more about the warranty being offered, a member of Time and Gems' stellar team of customer service representatives will always be happy to help.
In line with summer, Time and Gems have unveiled several new additions to the men's Rolex collection. One of the watches on sale as the deal of the day is the Men's Rolex Stainless Steel Mother of Pearl Dial Daytona (Item #5127)
Price: $14,045
(Bank Wire Price: $12,640)
This leaves the buyer a total savings of $1405 if the buyer opts to pay via bank wire.
To find out more about what else is on sale, call Time and Gems at 1-888-658-5595 or check out their website http://www.timeandgems.com.