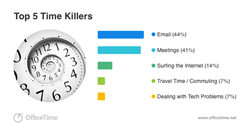 Procrastinating is a huge time-suck, and working professionals are no more able to escape from that vortex than anyone else.
London (PRWEB) February 10, 2015
In its fourth annual survey of freelancers, small business owners and professionals, released each February to coincide with Time Management Month, OfficeTime.net asked over 1,200 people about how much time they spend on a variety of activities during the workday. The reigning "Top Time Killer" for the fourth straight year is Email, with Meetings coming in at a very close second place.
A key finding from this year's survey is procrastination is a major obstacle to being productive. Nearly half of the respondents to OfficeTime's survey said they feel they spend too much time putting off doing more productive or necessary tasks each day.
"Procrastinating is a huge time-suck, and working professionals are no more able to escape from that vortex than anyone else," said Stephen Dodd, CEO of OfficeTime. "If you recognize you've developed a habit for procrastinating, set up self-rewards for getting an unpleasant task done and find an accountability partner who can help you stay on-task."
According to this year's survey, the following are the top 5 "time killers":
5 - Dealing with technology problems (7%)
4 - Travel Time / Commuting (7%)
3 - Surfing the Internet (14%)
2 - Meetings (41%)
1 - Email (44%)
Several of these activities are, obviously, necessary and not a complete waste-of-time. Many people must spend time driving to work or clients' offices each day, and checking email, attending meetings and researching on the Internet are essential in many professions.
"With 'email' and 'meetings' neck-and-neck at #1 and #2 in our survey, obviously we spend a great deal of time each day communicating," said Dodd. "If we're going to spend that large percentage of our day communicating, we have to look at how our communication can boost productivity. A key way to accomplish that is to make sure your communications are in the clearest, most effective way possible."
To improve the efficiency of communications and make it more productive, rather than another huge time killer, OfficeTime suggests focusing on what's "most important."
"Understanding what is most important to the people you are communicating with will produce progress faster than any other point of focus," Dodd says. "Whether you are communicating by email or in person, when you are able to articulate and get others tuned to what is most important, you produce meaningful direction, focus and impact that offers the greatest value possible as a leader and in delivering value to your clients."
Respondents to this year's survey were also asked why they waste time. "Feeling stressed" was cited as the biggest cause for wasting time, with 70% of respondents naming it as a reason. "Feeling uninspired" came in at second with 68% and "Unresponsive Clients" was third with 64%.
About OfficeTime.net
OfficeTime.net develops a remarkably intuitive app for tracking your time and expenses, whether on an iPhone, iPad, Mac or PC. OfficeTime balances features and ease of use, allowing users to easily track exactly where they're productive and where they're wasting time.
For more information about OfficeTime and how it can help increase productivity with its simple-to-use time tracking system, visit http://www.officetime.net.