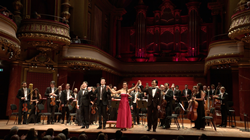 NEW YORK (PRWEB) February 14, 2019
Time Ranger Inc. is a socially concerned organization that aims to promote worldwide artists by providing a platform where they can display their talents. In this regard, they organized a world-class event named: Cross Culture Music Festival. This 3-day event was held in Victoria Hall and Theatre Les Salon, Geneva, Switzerland and was attended by music lovers and musicians from different countries of the world.
This is the first of its kind event and Time Ranger Inc. takes great pride in being the pioneer of organizing such occasions.
This festival was the practice project under the Music Education and Sustainable Development Conference and represented a collaboration between Time Ranger Inc and the United Nations Institute for Training and Research (UNITAR). The World Federation of International Music Competitions (WFIMC), the UNESCO International Music Council, and the Permanent Mission of the People's Republic of China to the United Nations Office at Geneva also expressed their full support towards this festival. The festival aimed to promote the exchange and fusion of traditional Asian art and Western culture through the establishment of an international and high-standard art platform where achievements of top artists could be presented to more audiences from different cultures by diverse concerts and art exhibitions.
Following is the eclectic collection of artists that made this festival a huge success and first of its kind: Chinese baritone Changyong Liao, Asian-American conductor Henry Cheng, Hungarian soprano Orsolya Sáfár, and Chinese pianist Byron Wei-Xin Zhou.
The Grand Opening of the Cross Culture Music Festival was also New Year's concert of Geneva city, took place on 31st December 2018. All four wonderful artists decided to present an extensive repertoire of Strauss, Mozart, Ravel and Lehar. It was fascinating and diverse, highlighting the festive and harmonious atmosphere of the New Year concert. This diversified crew tuned in with La Scala Chamber Orchestra from Milan, Italy to commence the first Cross Cultural Festival Concert at Victoria Hall in Geneva, Switzerland.
Under the baton of Henry Cheng, an award-winning young rising conductor, La Scala Chamber Orchestra showed their agile and passionate presentation, along with their signature style, which is swinging between the freedom and steady, to perform this concert. Cheng's maturity, passion, and ability for control, made the orchestra sound clean and energetic.
Soprano Orsolya Sáfár, who sang with the full power and well-shaped phrase throughout her voice, became heartfelt and touching. The emotions and the intimacy of love were perfectly presented by her lyrical, fantastic singing and vivid performances. The pure, ringing and touching voice easily impressed the audience.
Baritone Changyong Liao amazed the audience by his highly skilled voice, and his vivid performance with his elegant and agile figure has won him big rounds of applause from the audience. His singing told the dramatic story with delicate emotional changes. In "Largo al factotum" from "Il Barbiere di Siviglia" by Rossini, Liao made an unpredictable improvising which led the climax for the night.
Pianist Weixin Zhou presented Ravel's "G Major Piano Concerto", with superb skills and foggy mood which met the standard of Ravel's music. As a 25 years old pianist, Zhou's approach towards this concerto is convincing, and he showed his possibility and promise of an international career on a notable level.
This marvelous grand opening of this event was then followed by Baritone Changyong Liao's solo Chinese-Lieder world premiere recital that took place on 3rd January 2019 at Theatre Les Salons.
This concert was designed to create a comprehensive performance platform for traditional Chinese art where classical poetry, calligraphies, paintings and art songs were closely integrated. To prepare for this, Changyong Liao collaborated with Mr. Wang Jiafang, a national first-class artist and the executive director of the Shanghai Artists Association, and Mr. Ding Yifang, national first-class artist and vice president of Shanghai Juequn Painting and Calligraphy Institute. They created sixteen calligraphy works, sixteen painting works and two porcelain works based on sixteen artistic songs. The two masters used the exquisite traditional art expression as one of the ways of presenting Chinese classical poetry art songs. The exquisite dialogue between poetry, painting and music is a lively Chinese cultural audio-visual feast presented to the international audience.
The concert began in the beautiful "Three Wishes of Roses". An elegant and flexible art space was immediately formed on the stage. The heavenly artistic conception of Chinese art songs was in between of true and illusory in the background of art pieces. The change of colors in Chinese paintings was also more vivid in the flow of music.
Liao presented the luxuriant meanings of Chinese classical poetry and art songs with exquisite skill and rich emotions in his singing. From the boldness in "Yangzi River Runs To The East" to the mourning emotions in "Red Bean Word", from the romantic sensation in "When is the Bright Moon" to the massiness in "Remember the Qin Dynasty and Hengshan Moon", all of the audience were highly impressed and gave warm applause after each song.
After sixteen songs, the audience greeted the artists with warm cheers and continuous applause. Liao returned to the stage for many times and thanked the enthusiastic audience.
Eventually, Pianist Byron Wei-Xin Zhou exhibited a solo piano recital encompassing the repertoire by Tong, Beethoven, Scriabin, Rachmaninoff, on 4th January 2019.
Zhou started his recital with a convincing, impressive performance of Sang's piece "Fair Maiden from Afar". Followed by Ludwig Van Beethoven's Sonata Op.7, Alexander Scriabin's Etude Op.42 No.4 and No.5, and Sergei Rachmaninoff's Piano Sonata No.2, Op.36.
Zhou's performance was technique-fleet and powerful, temperamental, and virtuosic. Meanwhile, one could feel Zhou's control in the performance, his calm, seriosity and unwavering in concentration and conviction with heartfelt and appealing lyricism. Zhou's 1st encore is the "Eusebius" from "Carnaval, op.9" by Robert Schumann, a very serene piece which gave the audience an opportunity to calm down. After the Schumann, Zhou decided to end the evening by "Danse Russe", a popular virtuosic festival piece from "Trois mouvements de "Pétrouchka" by Igor Stravinsky.
The Cross Culture Music Festival is a pure representation of Time Ranger Inc.'s aims and objectives. It is an appreciable attempt at promoting global rapport and highlighting the talents of young artists and musicians at a global setting. The best part is that it is a traveling festival. Paris, Milan, Berlin, New York City, Boston, Atlanta, Shanghai and Beijing are the next probable hosts of such an amazing event.