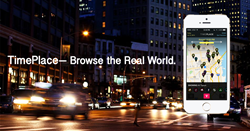 San Francisco, CA (PRWEB) October 23, 2014
TimePlace "CROWD REPORTS" with Twitter
In conjunction with Twitter Flight, Twitter's first annual conference for mobile developers, TimePlace Inc. (http://www.timeplace.com) a San Francisco startup announced the immediate availability of TimePlace "Crowd Reports" with Twitter. Leveraging the newly released integrated SDK announced at Flight, known as Fabric, the TimePlace mobile application creates the ability to "Crowd Report" using Tweets at an event or venue. Real-time viewing of native Tweets within TimePlace enables users to get the latest "crowd sentiment" of a venue or event in real-time. This new feature also allows reporting back to the crowd when the person is located within 25 meters of the venue or event.
"Twitter's integration via the new Fabric SDK provides a holistic approach to integration, analytics and beta testing. By combining this with the power of the Crashlytics tools, we were able to cut down our integration costs significantly. Fabric gives us real-time visibility into our user's usage patterns via advanced real-time analytics and a unique approach to visualization of this data. Twitter has really made it much easier for startups to get these advanced analytical capabilities and to easily extend its social network capabilities into a mobile application. The ease of integrating Fabric allowed us to build this capability in half the time of traditional API integration," said Ty Parker, CEO and Founder at TimePlace.
Users of TimePlace can now benefit from the power of the "Crowd" using social networks, to quickly assess the "scene" when viewing "Tippys" (a unique time and place) in the application. As additional users use the feature, the power of the "Crowd" increases the value for all others looking to experience that event or venue. This real-time view of the physical world enriches the user experience when planning to attend events, activities or venues. Users can view up to the minute Tweets, photos and social comments from others who are already there.
TimePlace "Crowd Reports" with Twitter is an update driven by user feedback and is part of TimePlace's commitment to deliver the latest product updates.
TimePlace's creators say the application has experienced strong user interest in its approach to hyperlocal activities. TimePlace Inc. plans to expand to additional data sources and add features to benefit those moving in the time/place continuum; those traveling on business, vacation, or going out in and around any city.
About TimePlace Inc.
TimePlace Inc. a startup based in San Francisco, CA is dedicated to creating technology and mobile apps that allows local businesses, brands, and consumers to meet in the most effective ways as consumers travel through time and location and with a specific intent. Their unique approach to data aggregation and presentation allows consumers to more effectively interact with advertisers at the time and location of their choosing, removing the need for pushing unwanted advertising and optimizing results.
Former Microsoft and Silicon Valley technology veterans founded the company in early 2014. Their first app TimePlace™ is available for download here. For more info checkout http://www.timeplace.com, Twitter: @mytimeplace or Facebook: http://www.facebook.com/mytimeplace
The names of actual companies and products mentioned herein may be the trademarks of their respective owners.