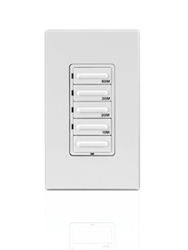 Dallas, TX (PRWEB) May 25, 2015
Decora Preset 60 Minute Countdown Timer, a product by renowned company 'Leviton' is now available on 'The Hardware City.' The product helps in automatically switching off any electronic device. A user has to set a time and the related electronic device is automatically turned off after the set duration.
When contacted a representative of the company said, "We are glad that this amazing product is now available on 'The Hardware City.' Now customers can buy Countdown Timer Switch in just a few clicks. The product has been designed by a team of experts. It will definitely help you in saving electricity." He further added, "We strive to provide full satisfaction to the customers with our products."
Countdown Timer Switch by 'Leviton' comes with four preset interval buttons that are 10, 20, 30, and 60 minutes. There is also an OFF button for manual purpose. User can set time according to the preferences. It is easy to operate and can be used for a variety of electronic appliances including fans, landscape lighting, security lighting, motors and others. The product is apt both for residential and commercial areas. It is designed in such a way that it looks stylish and can be fixed anywhere. Customers have a choice to choose from three color - White, Ivory and Light almond.
There are wiring instruction for single pole and 3 way or more circuits when it is used with Vizia along with Remote switch. Quality material has been used in the production of countdown timer switch, which makes it long lasting. Electricity wastage is also controlled by the product. A huge number of people have used Countdown Timer Switch and are satisfied with its use. On 'The Hardware City' customers can get the product on 67 percent discount. That means the product can be obtained for $20.15 against the list price of $33.56. There is no shipping charge for the product. The amount can be paid using credit or debit card via secured payment gateway.
About TheHardwareCity.com
TheHardwareCity.com was founded in the year 2007. It is an online hardware store and wholesale store specializing in hardware , general merchandise and household goods. The website aims at providing quality service and product to the customers.