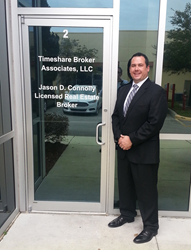 Our revenue has exploded nearly nine fold in 2014 and our projections are for double-digit growth in 2015
Tampa, FL (PRWEB) February 03, 2015
Licensed timeshare resale brokerage company Timeshare Broker Associates (TBA), announces the firm's expansion with the opening of a new sales office on Commodity Circle in Orlando, Florida.
Long known as the timeshare capital of the world, Orlando is host to the corporate headquarters of nearly every major timeshare-related brand including Disney Vacation Club, Marriott Vacations Worldwide, Hilton Grand Vacations, Wyndham Vacation Ownership and Starwood Vacation Ownership.
With this strength of presence, the experienced timeshare-related personnel and the numerous timeshare resorts in the Orlando area, it was logical that the company expand into Central Florida according to TBA Managing Broker Jason Connolly.
"We've been growing our business steadily from our Tampa office since we started in early 2013 but, with the growth of our business over the last 12 months, we've seen the need to expand and keep up with the demand for our commission-only broker services.
"Because of the extensive number of professionals in Orlando with timeshare industry experience, we felt it was an easy decision to open an office in the area and continue to build the kind of relationships that lead to sales on the resale market," Connolly said.
Connolly has been in the timeshare industry for the past 15 years, working in timeshare resales prior to starting TBA. Now, with the growth of the company and expanded relationships within the broker network nationally through groups such as the Licensed Timeshare Resale Brokers Association, more growth is projected in 2015.
"Our revenue has exploded nearly nine fold in 2014 and our projections are for double-digit growth in 2015, so we're very excited about the opportunities generated from our new presence in Orlando," added Connolly.
For more information about Timeshare Broker Associates, please visit http://timesharebrokerassociates.com or phone 877-624-6889.
About Timeshare Broker Associates
Timeshare Broker Associates, LLC works to provide timeshare owners with a way to sell their timeshares using a traditional real estate brokerage approach. Headquartered in Tampa, Florida, and with a sales office in Orlando, TBA uses a network of timeshare brokers and FSBO resale avenues to match up timeshare sellers with buyers, specializing in premium Florida-based timeshares such as Disney, Marriott, Hilton, Hyatt, and Starwood branded resorts.
A member in good standing with the National Association of Realtors, National Timeshare Owners Association, Licensed Timeshare Resale Brokers Association and a Broker Member of the American Resort Development Association, the friendly staff of TBA licensed agents can provide information to help owners set a good asking price and get their timeshare sold. The company works exclusively on a commission-only basis, which means no up-front fees, and does not get paid unless the timeshare is sold. For more information about Timeshare Broker Associates, please visit http://timesharebrokerassociates.com/ or call 877-624-6889.