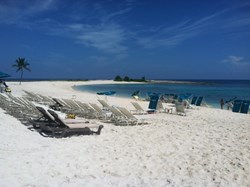 We wanted to create a fun, easy way for people to share their timeshare vacation photos in a light-hearted manner.
Tampa, FL (PRWEB) August 28, 2013
Timeshare resale and rental advertising company BuyaTimeshare.com has announced the winner of its Facebook photo contest, which ended on August 25.
Michelle Lessard of New Hampshire was named the winner for garnering the most online votes for her photo of Cove Beach at Paradise Island, Nassau, Bahamas. Ms. Lessard will be presented with a $25 American Express gift card for winning the contest.
The contest was held during the month of July and through to August 25, with contestants asked to upload their timeshare vacation photos to the company Facebook page at http://facebook.com/BuyaTimeshareOnline to have a chance to win. Once entered, contestants asked their friends to go to the page and vote on their photo, with the winner collecting the most votes.
"We are delighted to present Michelle with the gift card as a thank you for participating in our contest," said Wesley Kogelman, president and CEO, BuyaTimeshare.com. "We wanted to create a fun, easy way for people to share their timeshare vacation photos in a light-hearted manner, while also demonstrating the enjoyment and value that such a vacation can bring."
The contest was just the latest in a series of consumer outreach initiatives designed to create additional points of contact for vacationers interacting with the BuyaTimeshare.com platform. While the company has significantly grown its presence on Facebook, it also keeps consumers up to date on the latest industry trends through its Twitter account @selltimeshares, Blog at http://blog.buyatimeshare.com/, Google + account at BuyaTimeshare.com and corporate LinkedIn account.
To see what else is going on at BuyaTimeshare.com, remember to "Like" the company Facebook page at the address listed above. For more detailed information about the timeshare resale and rental market, please visit http://buyatimeshare.com
About BuyaTimeshare.com
BuyATimeshare.com is an internet advertising and marketing company for timeshare owners who seek to sell or rent timeshare by-owner. The company has been in business since 2000 and was ranked by Inc. Magazine as one of the fastest-growing, privately held companies in the country—making the prestigious Inc. 5000 list in 2010 and 2011. BuyATimeshare.com was also listed as one of BusinessNH Magazine's Top 10 Companies to Watch in 2009. The company is a member in good standing with the American Resort Development Association (ARDA), Canadian Resort Development Association (CRDA) and Cooperative Association of Resort Exchangers (CARE). For more information, please visit http://buyatimeshare.com or call 1-800-882-0296.
###
Contact:
Steve Luba
Chief Communications Officer
Email: s.luba(at)buyatimeshare(dot)com
Ph: 800-882-0296 ext. 7703