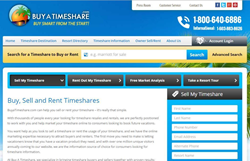 This is extremely good news as we continue to sound the trumpets that timeshare is indeed a sought-after vacation ownership product
Tampa, FL (PRWEB) October 27, 2014
Online offer activity continues to be strong for timeshare resale and rental advertising company BuyaTimeshare.com.
Prospective buyers and renters place offers on timeshares for sale and for rent which are advertised on the BuyaTimeshare.com online platform (http://buyatimeshare.com), and metrics continue to show improvement compared to this time last year.
Following the completion of the company's third quarter business quarter in September, overall confirmed offers to buy timeshares through the company website stand at 14,390, an overall increase of 8 percent and surpassing the entire total for 2013. Rental offer values have also exceeded 2013 totals, with $7,055,183 in confirmed rental offers forwarded to advertisers already this year, an increase of 13 percent.
"The confirmed offers placed on ads throughout our site to rent and buy timeshare in 2014 is extremely good news as we continue to sound the trumpets that timeshare is indeed a sought-after vacation ownership product," said BuyaTimeshare.com president and CEO, Wesley Kogelman.
These numbers are expected to climb even further through the end of 2014 and beyond following the recent launch of the company's newly-designed website. Using a new dynamic format, the site adapts to whichever device is being used to access the site, providing true mobile compatibility should the consumer use a smartphone or tablet to search for resale information.
"Online transactions are only growing and all of the research shows that more consumers are using their phones and tablets to transact online. According to new Forrester Research, three out of four shoppers shop online, and 30 percent of shoppers do so on a mobile device at least as much as they shop on a computer. This is significant as we move toward a full online transaction cycle for timeshares and other vacation ownership products," Kogelman stated.
For more information about BuyaTimeshare.com, please visit http://buyatimeshare.com.
About BuyaTimeshare.com
BuyaTimeshare.com is an internet advertising and marketing company for owners who seek to sell or rent timeshare. The company has been in business since 2000 and was ranked by Inc. Magazine as one of the fastest-growing, privately held companies in the country—making the prestigious Inc. 5000 list in 2010 and 2011. BuyaTimeshare.com was also listed as one of BusinessNH Magazine's Top 10 Companies to Watch in 2009. The company is a Trustee Member of the American Resort Development Association (ARDA), on the Board of Directors of the Canadian Resort Development Association (CRDA), a member in good standing with the Cooperative Association of Resort Exchangers (CARE), U.K.-based TATOC the Timeshare Association and is a preferred resale provider for the National Timeshare Owners Association (NTOA). For more information, please visit http://buyatimeshare.com or call 1-800-882-0296.