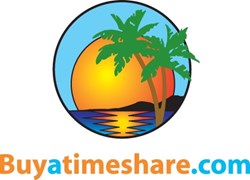 Buyers and renters who visit our site are aware of the significant savings which can be obtained through transacting with existing owners.
Tampa, FL (PRWEB) February 10, 2014
The 2013 calendar year finished strongly for online timeshare resale advertiser BuyaTimeshare.com (http://buyatimeshare.com), with an increase in fourth quarter buyer offers pushing the total dollar amount over the $90 million mark for the year.
The online timeshare resale pioneer, which just celebrated its 14th year in business last month, saw the number of inbound buyer offers jump 29 percent in Q4 '13, generating over $8.5 million in confirmed offers sent by prospective buyers to advertisers through the company's website. This brought the total amount of buyer offers to $97 million for 2013 – an increase of 98 percent compared to the previous year. Rental offers for 2013 were up slightly, with a two percent increase, generating just over $6 million from consumers looking to rent timeshare.
All offers are confirmed as legitimate bids by the unique technology used within the BuyaTimeshare.com website, which allows offers to be emailed directly to owners advertising their timeshares for sale and for rent. Owners negotiate directly with the buyer or renter to reach an agreement, which can be conducted entirely through electronic communication.
These numbers reflect the strength of the secondary market at a time when consumers are searching for more transparency and value for their accommodation purchases according to BuyaTimeshare.com president and CEO Wesley Kogelman.
"The resale sector has shown consistent growth which has paralleled the rebound in the travel industry coming out of the recession," said Kogelman. "What we learned from the recession is that consumer purchasing behavior became much more value conscious and vacationers were more likely to seek better deals than in the past."
"This mindset is perfectly aligned with the resale marketplace since buyers and renters who visit our site are aware of the significant savings which can be obtained through transacting with existing owners."
"The ARDA International Foundation resale study last year recognized the emergence of the resale sector when it concluded that there is an increasingly high level of satisfaction from buyers on the resale market and that satisfaction among buyers with the professionalism of the sector is at 85 percent," added Kogelman.
A new program is about to be launched by the company in Sarasota, FL at this week's Global Networking Expo, GNEX 2014, where resorts, home owners associations and property management companies can leverage the online expertise of BuyaTimeshare.com's marketing platform.
To find out more about BuyaTimeshare.com, please visit http://buyatimeshare.com.
About BuyaTimeshare.com
BuyaTimeshare.com is an internet advertising and marketing company for timeshare owners who seek to sell or rent timeshare by-owner. The company has been in business since 2000 and was ranked by Inc. Magazine as one of the fastest-growing, privately held companies in the country—making the prestigious Inc. 5000 list in 2010 and 2011. BuyATimeshare.com was also listed as one of BusinessNH Magazine's Top 10 Companies to Watch in 2009. The company is a member in good standing with the American Resort Development Association (ARDA), Canadian Resort Development Association (CRDA), Cooperative Association of Resort Exchangers (CARE) and is a preferred resale provider for the National Timeshare Owners Association (NTOA). For more information, please visit http://buyatimeshare.com or call 1-800-882-0296.
###
Contact:
Steve Luba
Chief Communications Officer
Email: s.luba(at)buyatimeshare(dot)com
Ph: 800-882-0296 ext. 7703