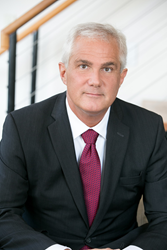 I see my job as being the last person who can save an innocent person from going to prison.
San Diego, CA (PRWEB) April 07, 2017
Criminal defense attorney Timothy J. Richardson, founder of The Law Offices of Timothy J. Richardson, is celebrating his twentieth anniversary practicing law, having reached 3,000 cases served. "I think criminal defense has always intrigued me. When I was a kid and saw Gregory Peck in 'To Kill a Mockingbird,' I saw him as a true hero, a man of honor. I think to some degree that influenced me," said Richardson, a 1999 Outstanding Trial Lawyer recipient presented by Consumer Attorneys of San Diego. "I see my job as being the last person who can save an innocent person from going to prison."
In the case where Richardson received the Outstanding Trial Lawyer award (Case no. SCD137667) his client was innocent. "He was charged with a home invasion robbery but he was innocent and I knew the evidence would prove it," said Richardson. "He was looking at over 10 years in prison. His brother was also charged but because he was 17 years old, he was charged in juvenile court. He was given a public defender, convicted and sent to juvenile hall."
Richardson continued, "I was successful in getting a not guilty verdict for my client. Afterwards, I filed a habeas corpus petition and got the younger brother's trial reversed." The District Attorney looked at the evidence and agreed that both boys were innocent. They agreed to drop the charges against the juvenile brother. "My client was able to spend Christmas with his mother, who died three months later," added Richardson. "Stories like that keep me going. I'm thankful that I can make an impact on others' lives."
Richardson served as Board of Director for the San Diego County Bar Association from 2007 to 2010, and also served as its Vice President in 2009 and Treasurer in 2008. Richardson graduated from the Thomas Jefferson School of Law, cum laude.
"When I started my own practice a year after graduation, my son was 5 years old. Today he is 25 and in his last semester of law school," noted Richardson. "I feel proud that he was influenced by my love for this profession so much that he wants to be a lawyer as well."
"This man saved my life four years ago," said client Emmanuel D. "Tim really put me at ease through what was the most stressful time of my life. I had never had any legal issues and I was facing two felony charges that would have put an abrupt stop to a 10+ year career in the military."
The secret to Richardson's success and longevity is staying on top of the law. Each day he reads the new cases that were decided the previous day, frequently spending Saturday mornings catching up on his reading. Furthermore, all criminal cases begin with pre-investigation, and Richardson has his own investigators to find the flaws in the prosecutor's case.
"Being a criminal defense trial lawyer is a part of me; it's my identity and never really felt like a 'job,'" concluded Richardson. "It's a privilege to appear in court on behalf of my client and argue on his or her behalf. It really has been an honor to be in this profession."
About Timothy J. Richardson, The Law Offices of Timothy J. Richardson
Timothy J. Richardson focuses his practice on criminal defense. He has tried over 75 cases before a jury and successfully litigated hundreds of pre-trial motions, many of which have resulted in dismissal before trial. All cases at The Law Offices of Timothy J. Richardson are handled directly by Mr. Richardson, which ensures that no evidence is overlooked. For more information, please call 619-231-6577, or visit http://www.criminaldefenseinsandiego.com. The law office is located at 401 B Street, Suite 2215, San Diego, CA 92101.
About the NALA™
The NALA offers small and medium-sized businesses effective ways to reach customers through new media. As a single-agency source, the NALA helps businesses flourish in their local community. The NALA's mission is to promote a business' relevant and newsworthy events and achievements, both online and through traditional media. For media inquiries, please call 805.650.6121, ext. 361.