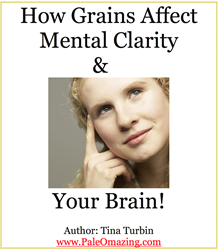 I want to help others and raise not only awareness but in assisting application of these diet principles.
Los Angeles, CA (PRWEB) May 30, 2014
Celebrated author and paleo and gluten-free advocate Tina Turbin has released yet another book on her website, http://www.Paleomazing.com, "How Grains Affect Mental Clarity and Your Brain!" This new release, with factual scientific evidence of grain-free eating on the brain, body and health, is one of dozens of books the author has written on these subjects.
"I want to help others and raise not only awareness but in assisting application of these diet principles. If I have to do that for one household at a time, I will," Tina said. "The books that I write are such a powerful and effective way to share this information broadly, and that's why I continue to write and develop appropriate recipes."
Tina's food philosophy aligns one-hundred-percent with the writings of major figures in the world of nutrition including neurologist Dr. David Perlmutter, the author of the internationally bestselling Grain Brain; cardiologist Dr. William Davis, author of the best seller Wheat Belly, and paleo advocate Chris Kresser, author of the top-selling book, The Paleo Code. According to Turbin, "Their research and knowledge is invaluable, and my recipes also align to the standards they set forth in their books."
Diagnosed many years ago with celiac disease, an autoimmune disease triggered by gluten, Tina adopted the standard gluten-free diet. The foods she consumed happened to be high in carbohydrates and rich in gluten-free grains. It wasn't until she adopted a low-carb, grain-free, high "healthy" fat diet that she began healing from the damage already caused. The founder of the highly popular http://www.PaleOmazing.com, Turbin is now an advocate for eating a paleo-ish grain-free and high "healthy" fat diet.
"I am disappointed that a number of paleo cooks and bloggers are catering to the carb cravings of others, even while knowing that high carbs and sugars are detrimental to your physical well-being and not the premise of what paleo is about," Tina said. "The effects of high carbs and sugars are very real, they exist are unfortunately rampant in all ages in society at large."
In Tina's latest book, available for purchase at http://www.paleomazing.com/my-books, Turbin details the effects of grains on brain function, aging and the overall effect of grains on health. She also offers tips and recipes to help make the transition a successful one.
###
TO BOOK TINA TURBIN FOR AN INTERVIEW OR SPEAKING ENGAGEMENT:
Please contact pr(at)thePRGroupEast-West(dot)com.
ABOUT TINA TURBIN:
Tina Turbin is a renowned, multi-award-winning author, baker and cook. Turbin is a well-known celiac advocate who researches and writes about the benefits of the gluten-Free, paleo-ish and keto diets and is the award-winning recipe developer and owner of Paleomazing.com. Tina has released award-winning eBooks, multi award-winning children's titles and thousands of articles. Tina also founded GlutenFreeHelp.info, voted #2 .info site in the world in 2009 out of over 6.7 million other .info sites, which she turned over to her celiac daughter, Miranda Jade Turbin, in 2012. Turbin is the renowned author of the multi-award-winning children's book, audiobook, DVD and apps under the titles, Danny the Dragon Meets Jimmy and Danny Dreams.
http://www.PaleOmazing.com
Follow Tina on Facebook, Twitter, Pinterest, LinkedIn, Google+ and Instagram! Check out her videos on YouTube!