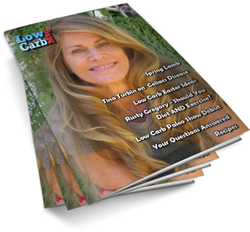 It was a very warm, thought-provoking interview and very real. It's always a pleasure getting to know other likeminded individuals in the paleo and whole food arena.
Los Angeles, CA (PRWEB) April 08, 2014
Tina Turbin, the paleo advocate behind Paleomazing.com, appears on the cover of the popular Low Carb Magazine. Her exclusive interview with the editor, Mark Maxom, is this month's feature article.
"It was such a delight speaking and being interviewed by Mark," Tina says. "It was a very warm, thought-provoking interview and very real. It's always a pleasure getting to know other likeminded individuals in the paleo and whole food arena."
Low Carb Mag is a monthly magazines that covers health, diet and lifestyle topics with the goal of helping its readers achieve maximum health with the help of a fun, low-carb lifestyle. The magazine's readers are comprised of individuals on low carb, whole food, and paleo diets, and they will be sure to find Tina's interview relevant and informative. The magazine's editor, Mark Maxom, is the founder of the Snack Box Diet System and author of The Snack Box Diet in addition to a number of other books and articles. The health-conscious author has maintained his health for the past 30 years without medical intervention and is dedicated to helping others achieve wellness through natural eating and living.
Mark interviewed Tina on a variety of topics including what first attracted her to the paleo diet and the story behind her recently published eBook, I'm Celiac and the Gluten Free Diet is NOT Helping, a groundbreaking work designed to inform people with celiac disease about how the paleo diet may help them heal from damage caused by gluten. Tina is the author of dozens of other eBooks including the recently published "Paleo Versus Gluten-Free," and "Improve Stamina with the Paleo-ish Approach." Tina's eBooks can be ordered online at http://www.paleomazing.com/my-books.
In the interview which is a free download at FreeLowCarb.com, Tina shares with Mark her compelling background in gluten-free and paleo-ish eating. Diagnosed with celiac disease, the multi-award-winning paleo author first made a name for herself in the gluten-free community when she founded GlutenFreeHelp.info, which quickly became the #2 .info website in the world out of over 6 million registered .info websites. The website is now managed by Tina's daughter, Miranda Jade Turbin. Tina finally healed her body from damage caused by celiac disease after turning to the inherently gluten-free paleo diet and following what she calls a "paleo-ish" (not strictly paleo) diet. Recently she founded http://www.paleomazing.com, a leading website for the paleo and gluten-free community. Many of Tina's paleo recipes are broadly shared and used by the gluten-free community.
###
TO BOOK TINA TURBIN FOR AN INTERVIEW OR SPEAKING ENGAGEMENT: Please contact pr(at)thePRGroupEast-West(dot)com.
ABOUT TINA TURBIN:
Tina Turbin is a renowned, multi-award-winning author, baker and cook. Turbin is a well-known celiac advocate who researches and writes about the benefits of the gluten-Free, paleo-ish and keto diets and is the award-winning recipe developer and owner of Paleomazing.com. Tina has released award-winning eBooks, multi award-winning children's titles and thousands of articles. Tina also founded GlutenFreeHelp.info, voted #2 .info site in the world in 2009 out of over 6.7 million other .info sites; turning it over to her celiac daughter, Miranda Jade Turbin in 2012. Turbin is the renowned author of the multi-award-winning children's book, audiobook, DVD and Apps under the titles, Danny the Dragon Meets Jimmy and Danny Dreams.
Follow Tina on Facebook, Twitter, Pinterest, LinkedIn, Google+ and Instagram! Check out her videos on YouTube!