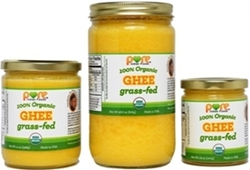 Cooking with ghee is not only an age-old Indian tradition, but it's an incredibly healthy habit for people on the paleo gluten-free diet.
Los Angeles, CA (PRWEB) October 06, 2014
The celebrated author and paleo, celiac advocate Tina Turbin (http://www.PaleOmazing.com) has raised awareness of grass-fed ghee as a lactose- and casein butter alternative through supporting the very companies that have spent countless hours behind this cause. As a leading advocate for celiac and food-sensitive individuals, Turbin now promotes ghee as part of a healthy, allergy-friendly diet for its health-promoting "good fats", enabling others to reap the latest and raving benefits. Turbin personally spent her own time and money on research on this topic to enable those with severe allergies to now be aware of not only "pure" ghee but enabling adults and children to now consume the buttery flavors of ghee. Her research has opened the doors for the celiac and autistic community.
Ghee, traditionally used in Indian cooking, is clarified butter from the milk of a cow or buffalo. Ghee is void of casein and lactose, used as a tasty alternative to regular butter and reaping health benefits for many on restricted diets. Turbin's passion for ghee came after she reviewed the organic and grass-fed cultured ghee from Pure Indian Foods, which unusual batch testing have confirmed to be pure of any traces of casein, lactose, and gluten. She praised the brand for adhering to grass-fed, non-GMO and ethical production standards, ideal for serving the needs of the health-conscious celiac, paleo communities, and dairy sensitive individuals.
"Cooking with ghee is not only an age-old Indian tradition, but it's an incredibly healthy habit for people on the paleo gluten-free diet," Turbin says. "Not just regular ghee, but organic, grass-fed cultured ghee, which is loaded with healthy fats that our body needs."
Turbin, diagnosed with celiac disease many years ago, finally experienced relief for her celiac symptoms when she adopted what she calls a "paleo-ish" diet, high in good fats, lacking grains, and dairy. She says, "Unfortunately I don't do well with dairy, which is why I've turned to ghee, an amazing alternative for those who are allergic to dairy or who lack the proper enzymes to digest it properly." On her blog, numerous articles and in her company reviews, Turbin points out many of the health benefits of eating ghee and a diet rich in omega-3 fatty acids, including lowered risks for cardiovascular issues, autoimmune diseases, cancer, depression, rheumatoid arthritis, and other age-related health issues.
Turbin has authored dozens of eBooks on the paleo and gluten-free diet. Her website is one of the leading resource sites for the gluten-free and paleo community providing highly sought-after recipes, articles, interviews, and more. To read more about the benefits of ghee and a diet rich in healthy oils, you can follow the author at Paleomazing.com.
###
TO BOOK TINA TURBIN FOR AN INTERVIEW OR SPEAKING ENGAGEMENT: Please contact mailto:pr(at)thePRGroupEast-West(dot)com.
ABOUT TINA TURBIN: Tina Turbin is a renowned, multi-award-winning author, baker and cook. Turbin is a well-known celiac advocate who researches and writes about the benefits of the gluten-Free, paleo-ish and keto diets and is the award-winning recipe developer and owner of Paleomazing.com. Tina has released award-winning eBooks, multi award-winning children's titles and thousands of articles. Tina also founded GlutenFreeHelp.info, voted #2 .info site in the world in 2009 out of over 6.7 million other .info sites, which she turned over to her celiac daughter, Miranda Jade Turbin, in 2012. Turbin is the renowned author of the multi-award-winning children's book, audiobook, DVD and apps under the titles, Danny the Dragon Meets Jimmy and Danny Dreams.
http://www.PaleOmazing.com
Follow Tina on Facebook, Twitter, Pinterest, LinkedIn, Google+ and Instagram! Check out her videos on YouTube!