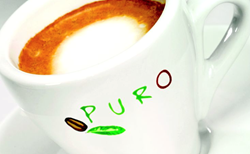 Puro is the ideal, twenty-first-century company in terms of its ethical, environmentally and health-conscious practices.
Los Angeles, CA (PRWEB) July 29, 2014
Award-winning author and paleo and gluten-free advocate Tina Turbin of PaleOmazing.com has published a favorable review praising Puro organic, fairtrade coffee. The celebrated paleo writer recommends the European company for not only its environmentally conscious practices, but for its superior, gluten-free-friendly coffee.
"Puro is the ideal, twenty-first-century company in terms of its ethical, environmentally and health-conscious practices," Turbin says. According to the company, Puro has helped, in partnership with World Land Trust, raise €1m from its coffee sales to fund the purchase and protection of more than 15,000 acres of rainforest across six countries. All of the company's coffee itself is sourced from fairtrade co-operatives.
The major Europe-based company recently reached out to Turbin to try their coffee and asked her for feedback. She found their organic coffee to be superior in taste and shared it with several baristas and coffee shop owners at leading Los Angeles cafes. "Puro coffee is smooth, not bitter or acidic at all. It really has the perfect flavor and tones!" Turbin said that the other testers wholeheartedly agreed with her.
Additionally Turbin said, "I was blown away by the fact that I experienced no side effects such as digestive issues or other symptoms associated with toxins, which are usually found in American coffees." As a leading voice for the celiac community, paleo and gluten-free community, she highly recommends the mold-free, mycotoxin-free coffee for paleo or gluten-free individuals who tend to suffer digestive distress from coffee.
"I'm hoping that by getting the word out about Puro coffee, they will be able to find a distributor here in the U.S. so we can easily have access to it," Tina said, already helping to create a demand for the coffee in L.A.'s bustling cafe scene. In her review, published on PaleOmazing.com, Turbin shares information on how to order the coffee online.
To book Tina Turbin for an interview or speaking engagement, please contact pr(at)thePRGroupEast-West(dot)com.
About Tina Turbin
Tina Turbin is a renowned, multi-award-winning author, baker and cook. Turbin is a well-known celiac advocate who researches and writes about the benefits of the gluten-Free, paleo-ish and keto diets and is the award-winning recipe developer and owner of Paleomazing.com. Tina has released award-winning eBooks, multi award-winning children's titles and thousands of articles. Tina also founded GlutenFreeHelp.info, voted #2 .info site in the world in 2009 out of over 6.7 million other .info sites, which she turned over to her celiac daughter, Miranda Jade Turbin, in 2012. Turbin is the renowned author of the multi-award-winning children's book, audiobook, DVD and apps under the titles, Danny the Dragon Meets Jimmy and Danny Dreams.
Follow Tina on Facebook, Twitter, Pinterest, LinkedIn, Google+ and Instagram! Check out her videos on YouTube.