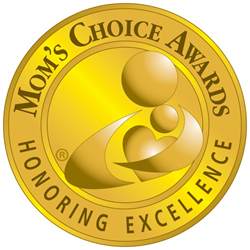 To be honored with an award from an organization like Mom's Choice, which is all about family-friendly, is truly exciting to me.
Los Angeles, CA (PRWEB) September 09, 2014
The renowned Mom's Choice Awards team has honored Tina Turbin, critically acclaimed author and paleo gluten-free advocate, with its top Gold title for her celebrated paleo resource website, http://www.PaleOmazing.com. The award is an acknowledgement of Turbin's commitment to stellar quality and to helping families maintain a healthy lifestyle.
"Family is extremely important to me," Turbin said in a statement on her website. "To be honored with an award from an organization like Mom's Choice, which is all about family-friendly, is truly exciting to me." The honor came as quite a surprise to the author, whose website has only been up and running for a little over a year. Since its inception in 2013, Turbin's site has already risen to become one of the leading paleo websites, taking the paleo and gluten-free world by storm with Turbin's celebrated recipes, prize giveaways, and simple advice on paleo living.
The Mom's Choice Awards® (MCA), according to its website, "evaluates products and services created for children and families. The program is globally recognized for establishing the benchmark of excellence in family-friendly media, products and services." The organization's esteemed panel of judges includes "education, media and other experts as well as parents, children, librarians, performing artists, producers, medical and business professionals, authors, scientists and others." Together, they have reviewed thousands of entries from more than 40 countries.
Indeed, PaleOmazing.com is a family-friendly paleo resource site featuring simple explanations of the paleo diet, helpful tips for paleo families, and Turbin's renowned paleo gluten-free, kid-friendly recipes, which have been featured widely in print and online publications. Turbin's recipes are easy to follow and share and are filled with tips for busy parents on a budget.
Turbin first captured the attention of health-conscious families when she founded GlutenFreeHelp.info. The website was voted the #2 .info website in the world out of over 6 million registered .info websites and is now managed by Turbin's daughter, Miranda Jade Turbin. Tina Turbin later turned to the inherently gluten-free paleo (short for "paleolithic") diet, which is based on the premise that humans do best eating the way their paleolithic ancestors ate.
"I could not have gotten as far as this without all my loyal followers who strive to live a healthy happy lifestyle. It's all of them that keep me trying at a recipe again and again, even after six failed attempts, just to make sure I get it down perfectly."
This is the third time Turbin has been honored by the Mom's Choice Awards program. Previously, she was honored with titles for her acclaimed children's book and DVD, Danny The Dragon Meets Jimmy. You can find out more about Turbin and her children's books at http://www.TinaTurbin.com.
###
TO BOOK TINA TURBIN FOR AN INTERVIEW OR SPEAKING ENGAGEMENT: Please contact pr(at)thePRGroupEast-West(dot)com.
ABOUT TINA TURBIN: Tina Turbin is a renowned, multi-award-winning author, baker and cook. Turbin is a well-known celiac advocate who researches and writes about the benefits of the gluten-Free, paleo-ish and keto diets and is the award-winning recipe developer and owner of Paleomazing.com. Tina has released award-winning eBooks, multi award-winning children's titles and thousands of articles. Tina also founded GlutenFreeHelp.info, voted #2 .info site in the world in 2009 out of over 6.7 million other .info sites, which she turned over to her celiac daughter, Miranda Jade Turbin, in 2012. Turbin is the renowned author of the multi-award-winning children's book, audiobook, DVD and apps under the titles, Danny the Dragon Meets Jimmy and Danny Dreams.
Follow Tina on Facebook, Twitter, Pinterest, LinkedIn, Google+ and Instagram! Check out her videos on YouTube!